TrustFire Magnetic Charge and Discharge Charger Universal Charger for rechargeable lithium ion batteries 32650 14500 16340 26650 18650
SPECIFICATION
Charging port Input: 5V/1A
Output to battery: 4.2V/1A(Max 1.2A)
Discharge port output to other electronic devices:5V/1A
Size:170mm*20mm*9mm (L*W*H)
Net weight:18.2g
Made of high-quality engineering plastic materials
Working temperature:-20℃- 50℃
Working humidity: 5%(0℃)- 90%(40℃)

FEATURES
It can charge various lithium-ion batteries with voltages ranging from 3.6V to 4.2V for 32650,26700,26650,26500,25500,22700,22650,22500,21700,20700,18700,18650,18500,18490,18350, 17700,17670,17650,17500,16650,RCR123, 16340, 17350,16500,14650,14500,14430,14350 and other sizes.
Charging process-Can charge the battery in any environment
With Various charging methods,mobile power supplies, car chargers, laptop computers can all charge the battery,convenience and efficiency.
Note: After charging, please remove the battery in time, because the power indicator will consume power slightly.
With Power Indicator (when charging batteries)
-Red Light: Charging
-Green Light: Full
-Red Flashing: Battery reverse connection or charger fault.
The red light flashes for 1 second (1Hz) indicates that the positive and negative poles are reversed or faulty. At this time, disconnect the power and re-install in the correct direction.
Dicharging Process: with Power bank function,can be used as a power bank to charge other devices
The discharge function of UC10 can charge a phone when the power is low in an emergency.
-Green Light: Charging
-Red Light: Low Battery(40%~20%)
-Red Flashing :The battery is running out (20%~0%)
Discharge: After the battery is correctly inserted, connect the electronic device, the green light is on, indicating that the electronic device is being charged at this time;The red light is on, indicating that the power is low (40%~20%); the fast red light flashing (5Hz) indicates that the power is about to run out (20%~0%).
Qualified and Safe charging
1. Reverse connection protection: Yes, the indicator will flash the red light in seconds.
2. Overcharge protection: Yes, maximum constant voltage 4.2V charge.
3. Short circuit protection: positive/negative short circuit protection (90mA detection current will be generated).
4. 0V activation: 0V activation with battery protection plate.

PACKAGE INCLUDED
1 x UC10 battery charger
1 x User Manual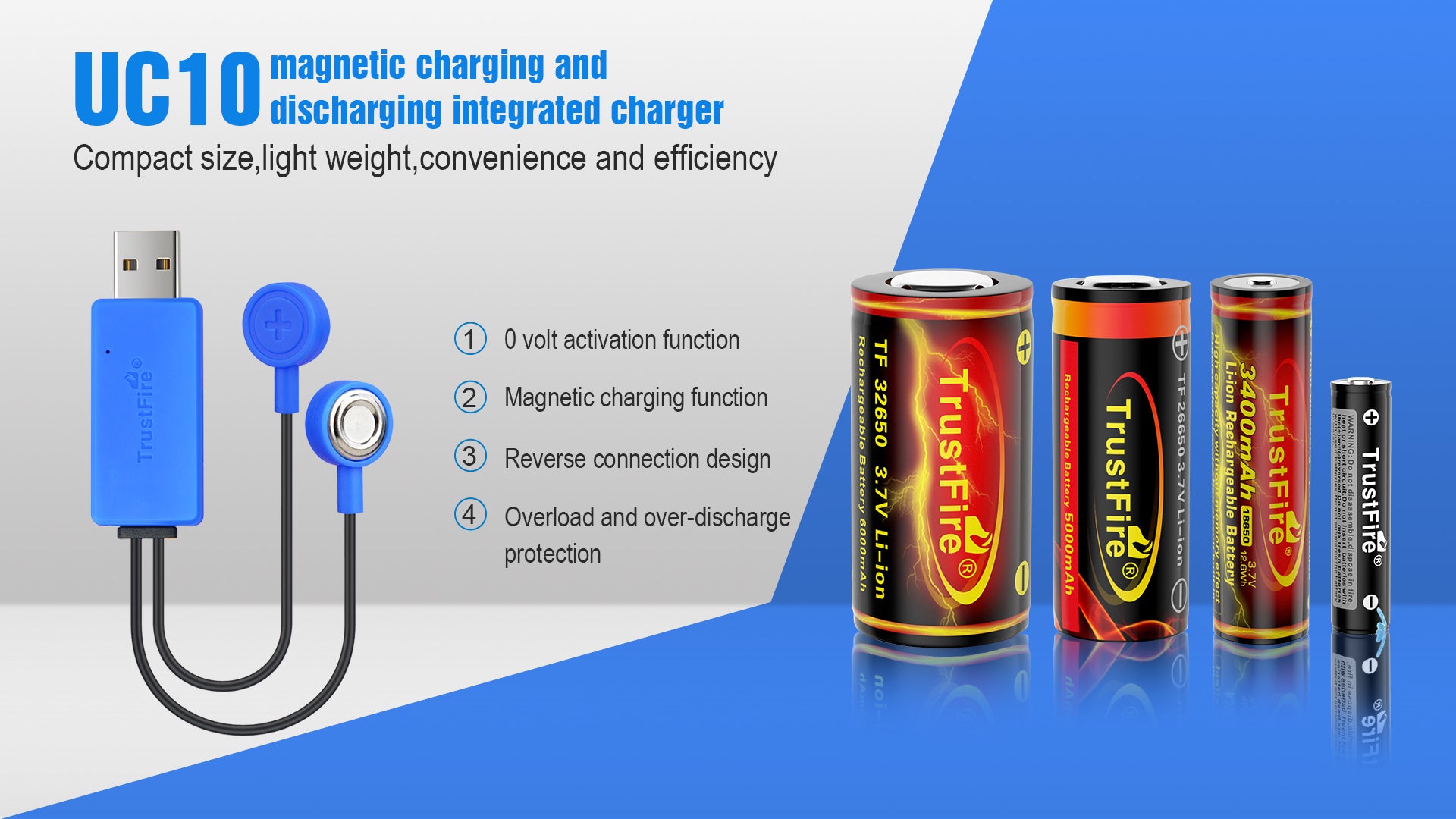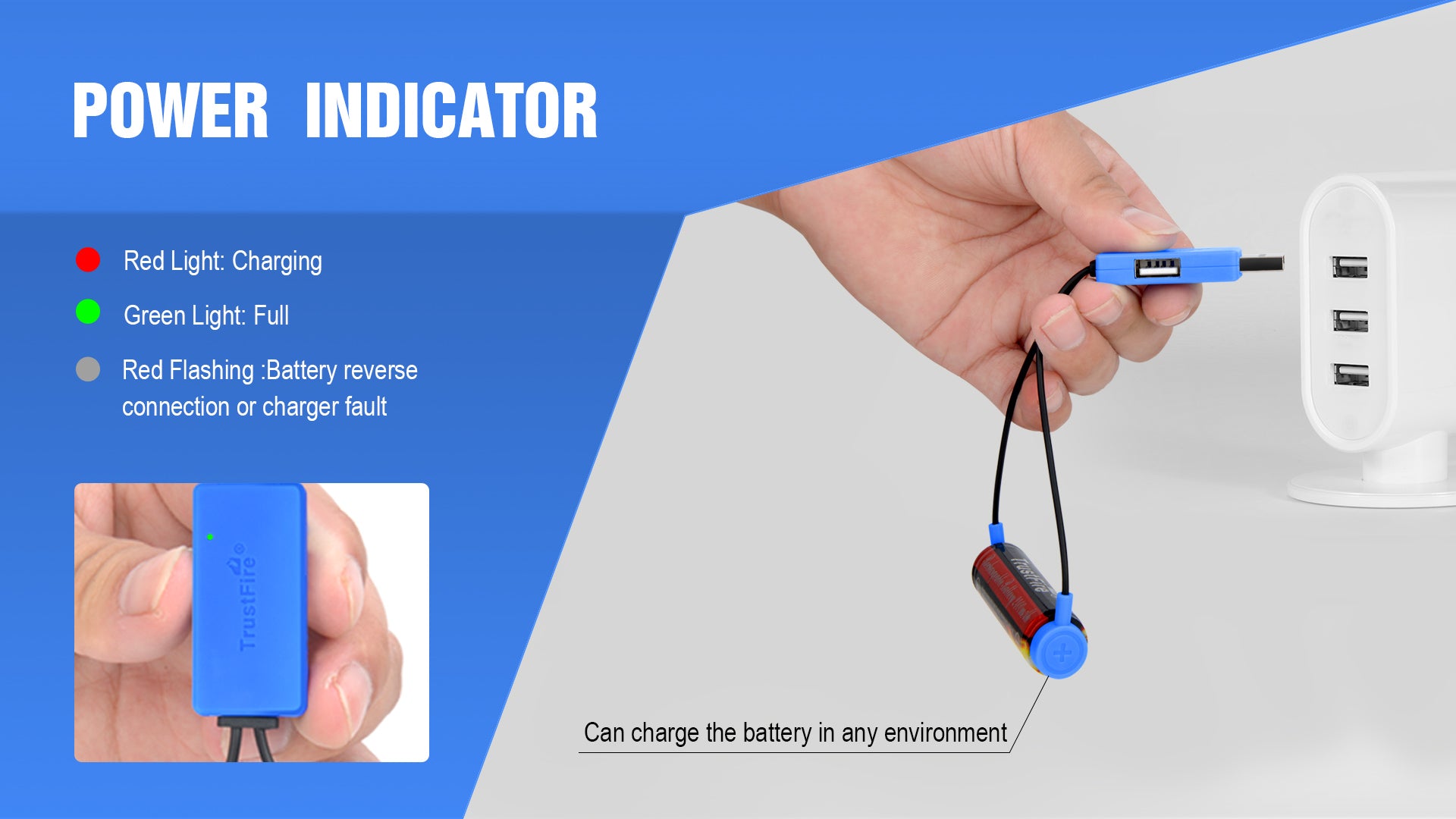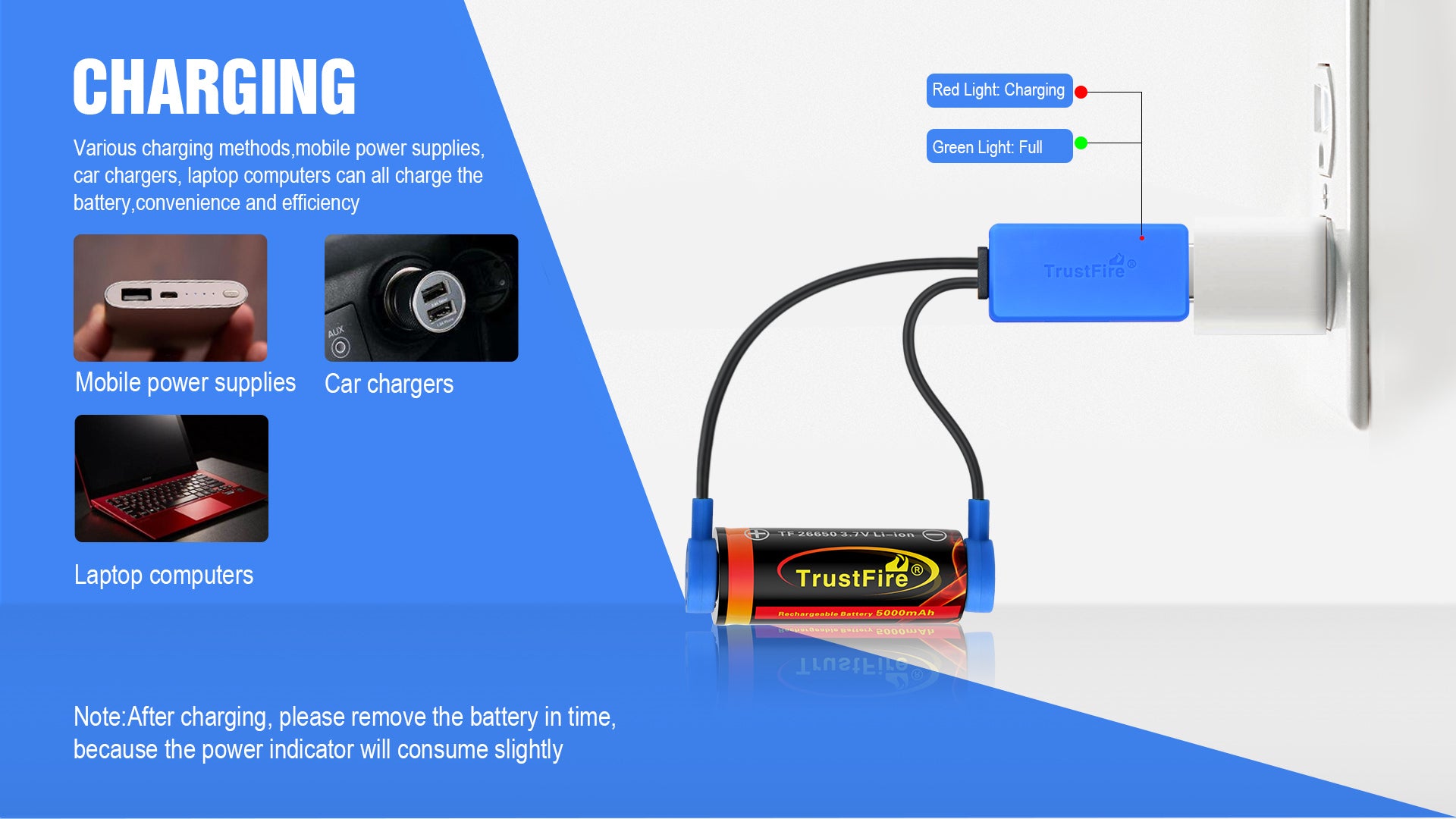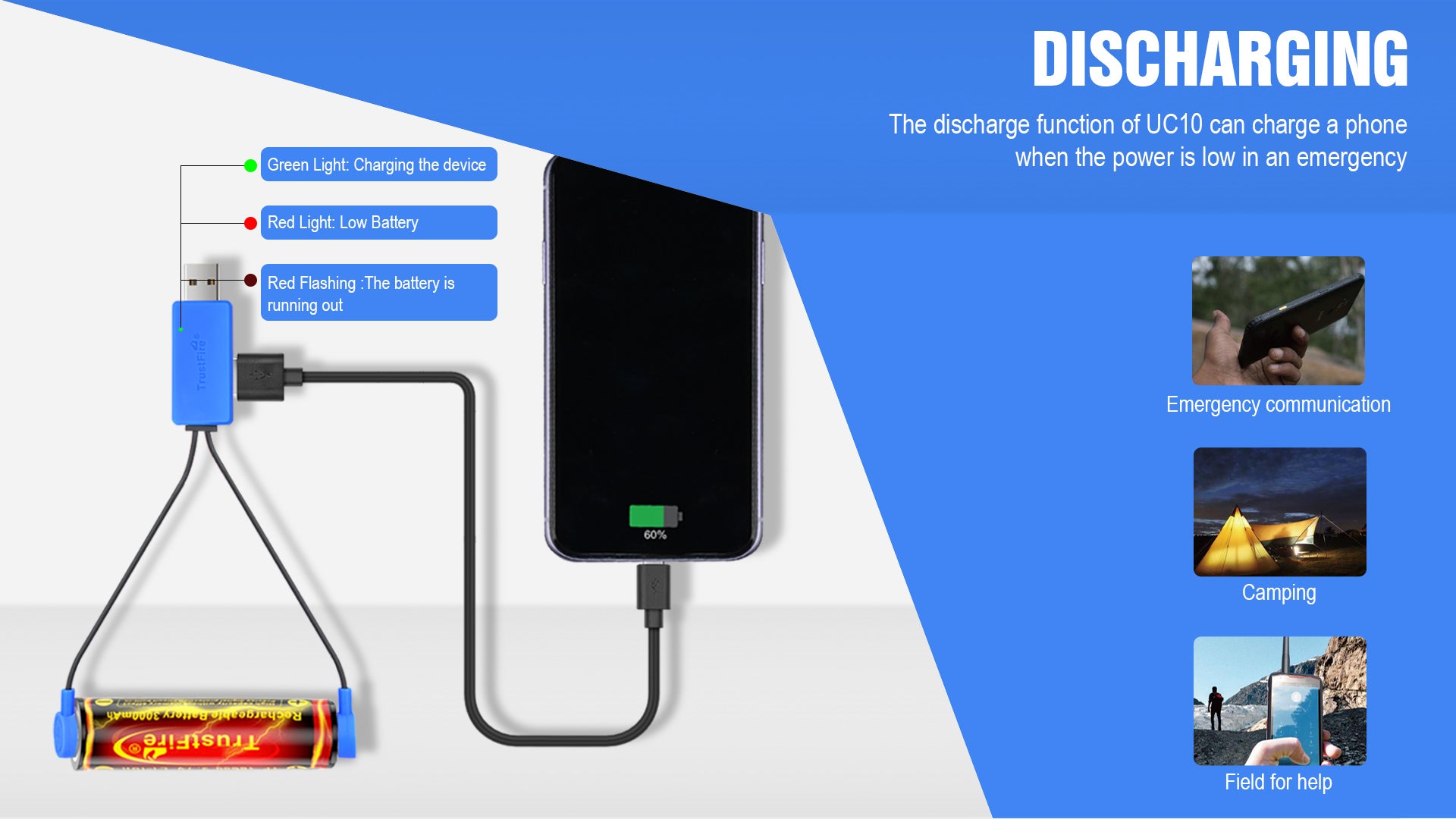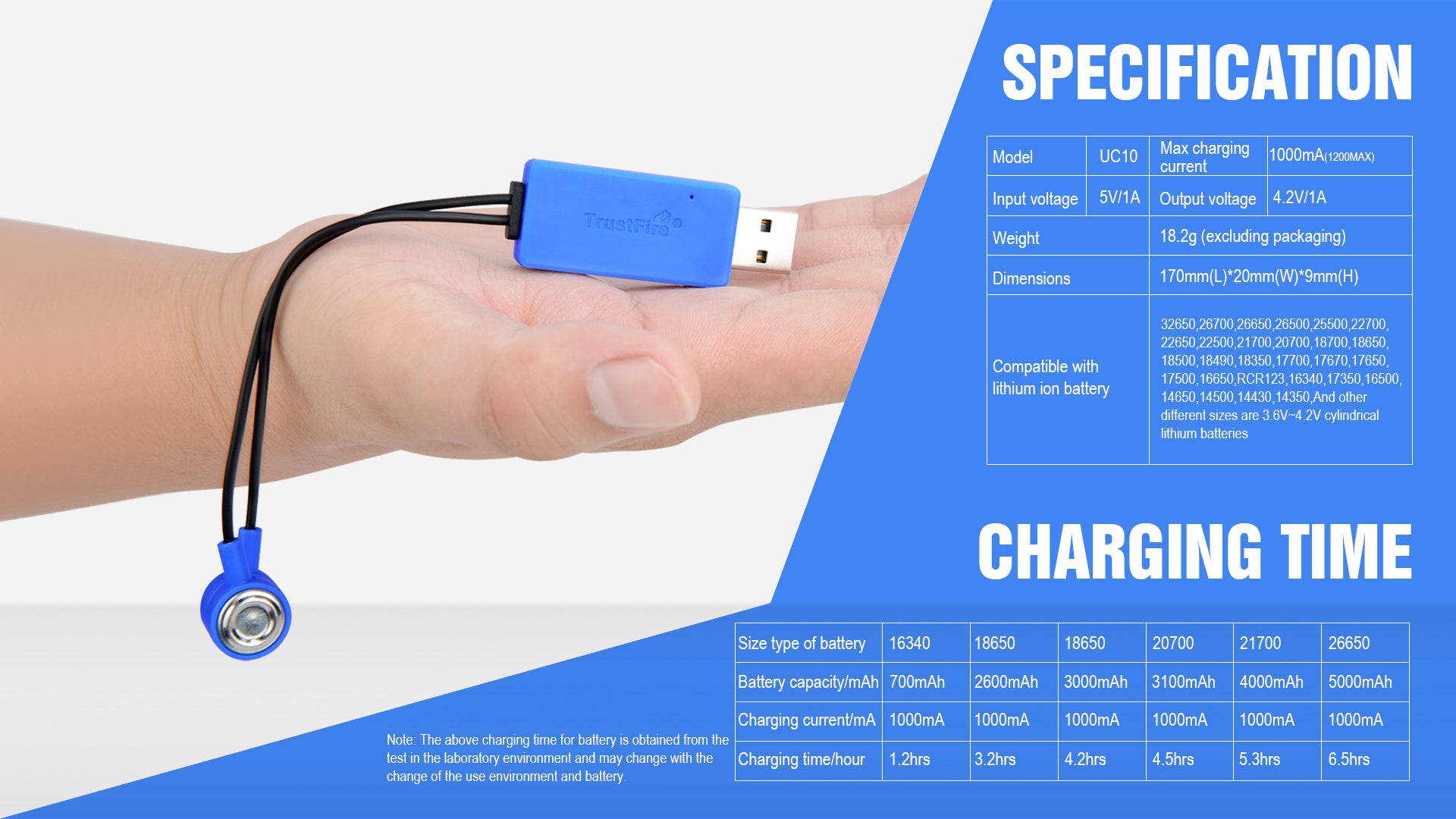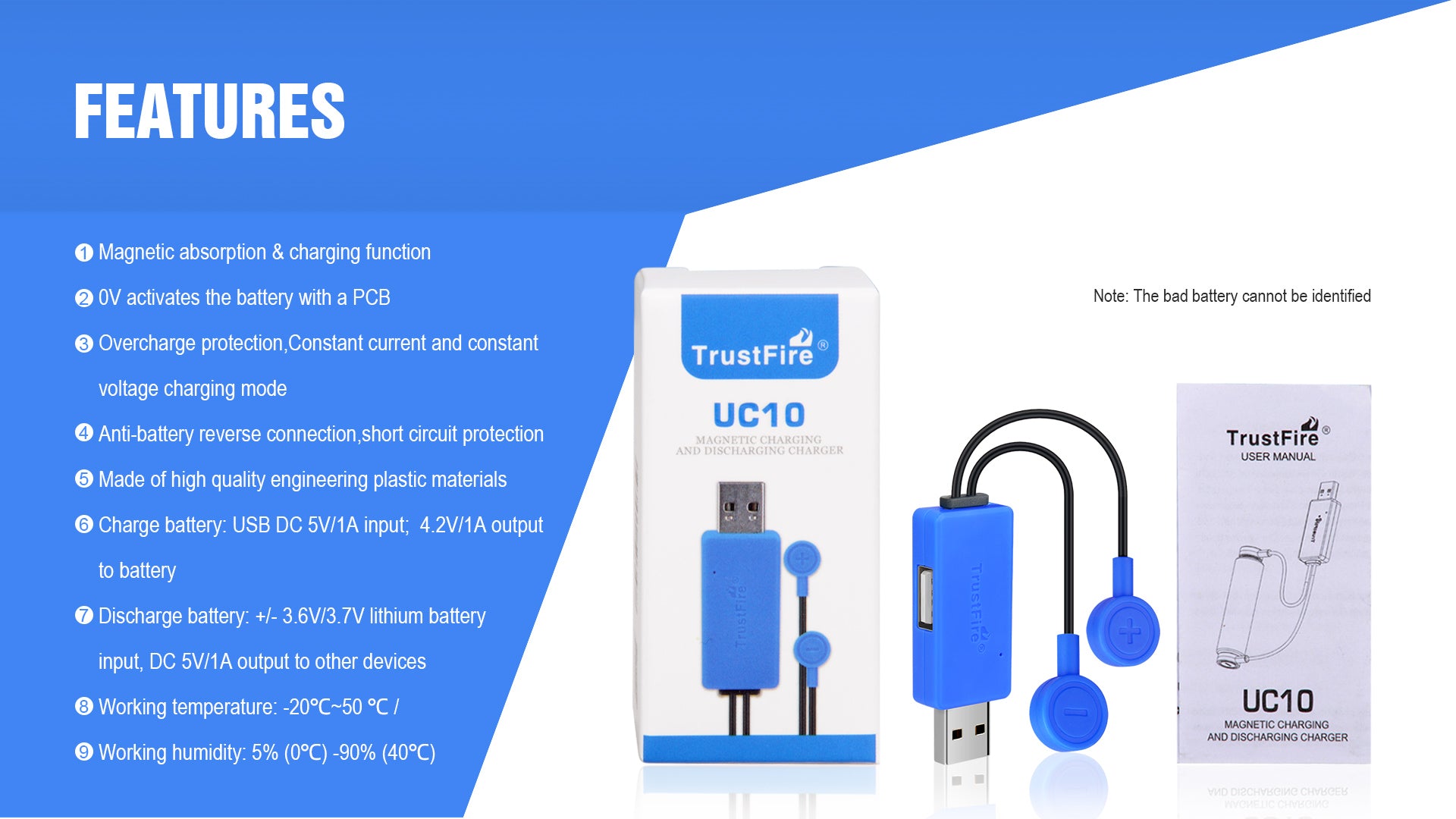 While there isn't a law requiring ecommerce stores to have a Return Policy, you may need one if you wish to enforce your terms and parameters of returns and refunds.
For example, in the state of New York, if a retailer does not provide a Return & Refund Policy, the retailer will be required to accept returns and give refunds for all merchandise returned within 30 days of purchase. If you wish to limit this in any way, you will need to create and post a Return Policy with your own custom terms.
Another reason for having a Return Policy even if not required by law is that most consumers prefer to shop at retailers with a clearly-posted Return Policy. This is especially important when shopping online, as more issues are likely when purchasing something without being able to see it in person first.
If you don't have a Return Policy, you may be at the mercy of state laws regulating return and refund timeframes. You may also lose potential customers who are concerned about not being able to return a product if they need or want to.
For after-sales service:
E-mail: kevin@trustfire.com
WhatsApp: +1 (321) 285-9451
100% Money Back
Guarantee