TrustFire Magnetic Charge and Discharge Charger Universal Charger for rechargeable lithium ion batteries 32650 14500 16340 26650 18650
SPECIFICATION
Charging port Input: 5V/1A
Output to battery: 4.2V/1A(Max 1.2A)
Discharge port output to other electronic devices:5V/1A
Size:170mm*20mm*9mm (L*W*H)
Net weight:18.2g
Made of high-quality engineering plastic materials
Working temperature:-20℃- 50℃
Working humidity: 5%(0℃)- 90%(40℃)

FEATURES
It can charge various lithium-ion batteries with voltages ranging from 3.6V to 4.2V for 32650,26700,26650,26500,25500,22700,22650,22500,21700,20700,18700,18650,18500,18490,18350, 17700,17670,17650,17500,16650,RCR123, 16340, 17350,16500,14650,14500,14430,14350 and other sizes.
Charging process-Can charge the battery in any environment
With Various charging methods,mobile power supplies, car chargers, laptop computers can all charge the battery,convenience and efficiency.
Note: After charging, please remove the battery in time, because the power indicator will consume power slightly.
With Power Indicator (when charging batteries)
-Red Light: Charging
-Green Light: Full
-Red Flashing: Battery reverse connection or charger fault.
The red light flashes for 1 second (1Hz) indicates that the positive and negative poles are reversed or faulty. At this time, disconnect the power and re-install in the correct direction.
Dicharging Process: with Power bank function,can be used as a power bank to charge other devices
The discharge function of UC10 can charge a phone when the power is low in an emergency.
-Green Light: Charging
-Red Light: Low Battery(40%~20%)
-Red Flashing :The battery is running out (20%~0%)
Discharge: After the battery is correctly inserted, connect the electronic device, the green light is on, indicating that the electronic device is being charged at this time;The red light is on, indicating that the power is low (40%~20%); the fast red light flashing (5Hz) indicates that the power is about to run out (20%~0%).
Qualified and Safe charging
1. Reverse connection protection: Yes, the indicator will flash the red light in seconds.
2. Overcharge protection: Yes, maximum constant voltage 4.2V charge.
3. Short circuit protection: positive/negative short circuit protection (90mA detection current will be generated).
4. 0V activation: 0V activation with battery protection plate.

PACKAGE INCLUDED
1 x UC10 battery charger
1 x User Manual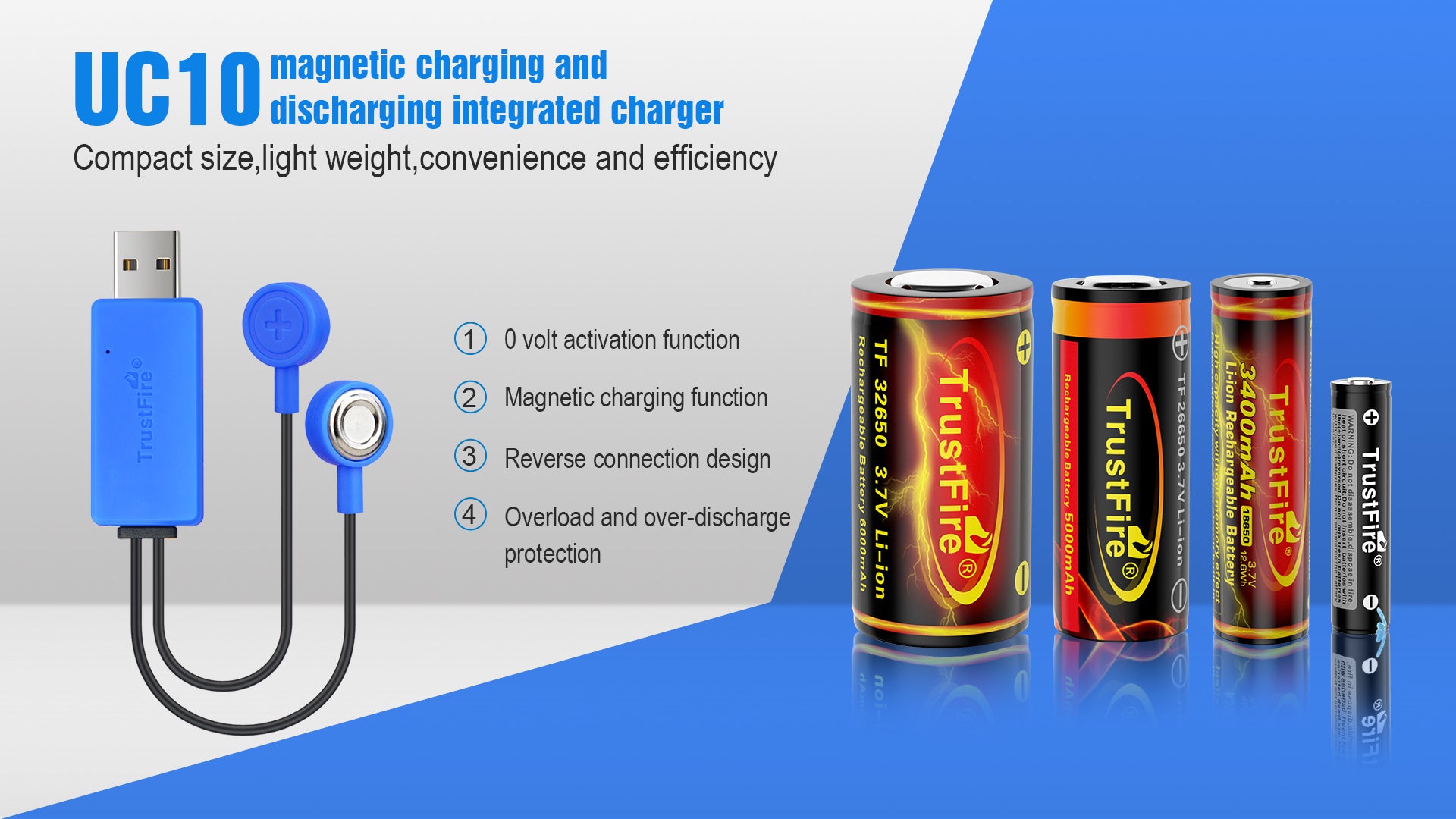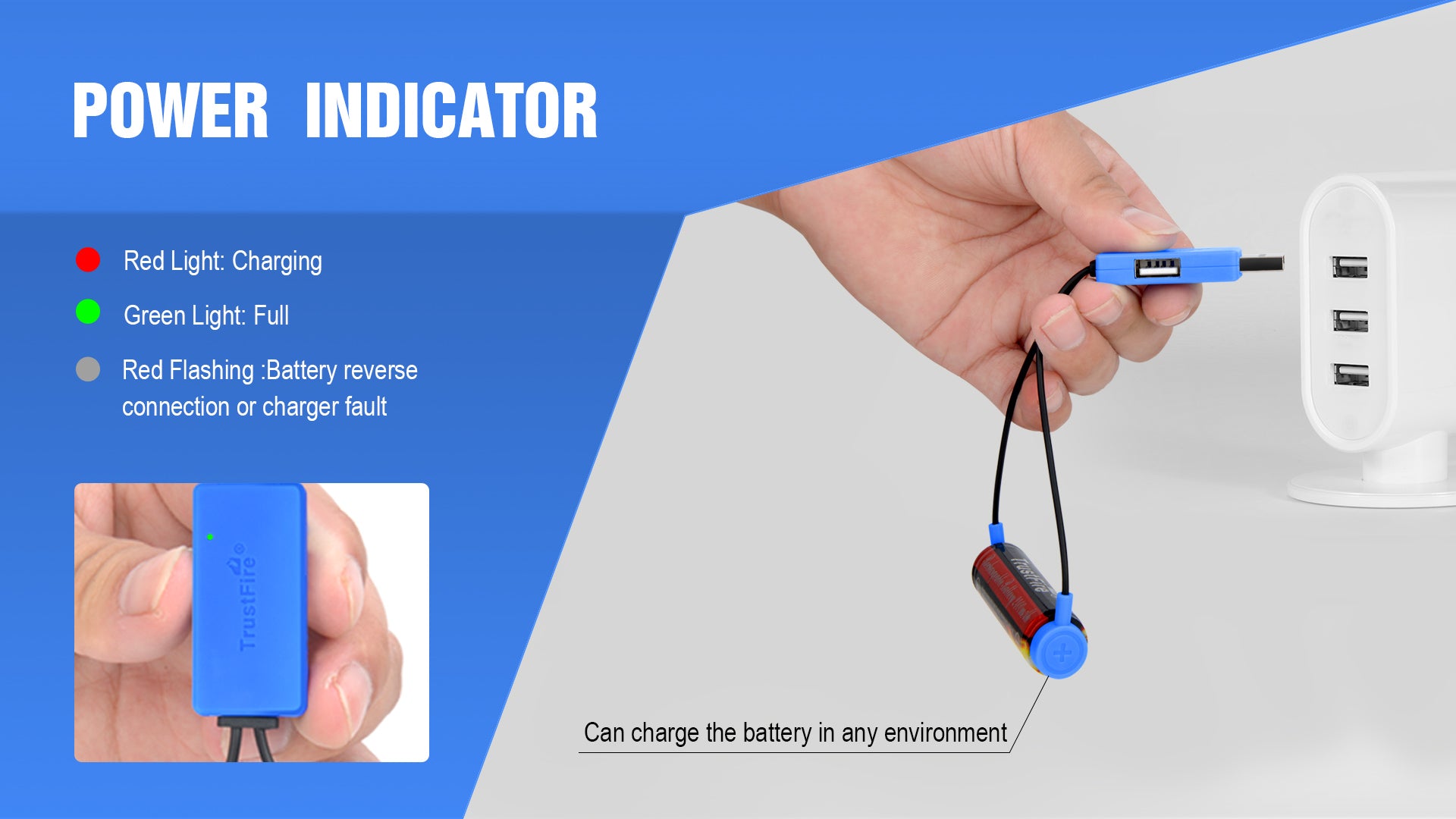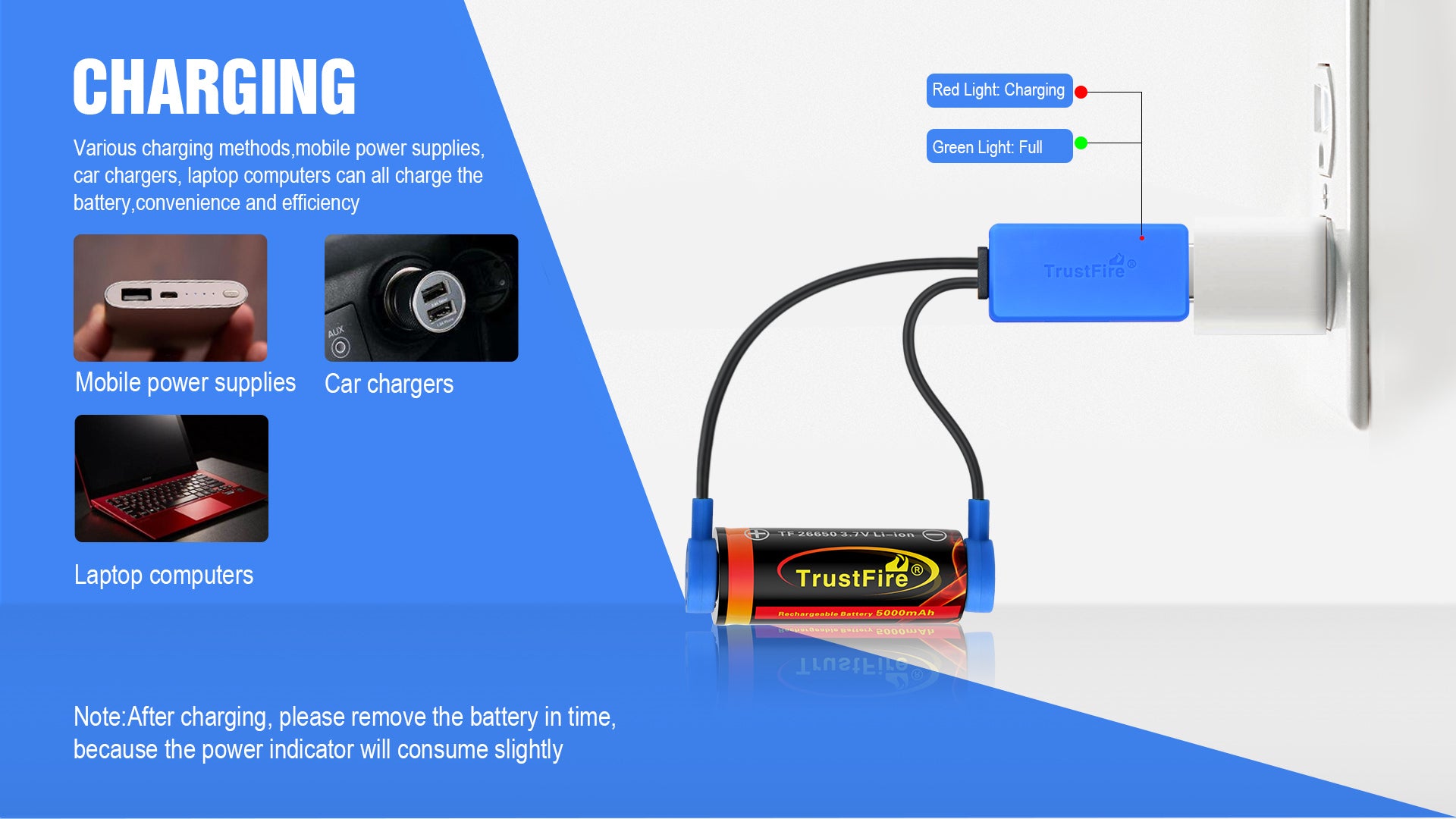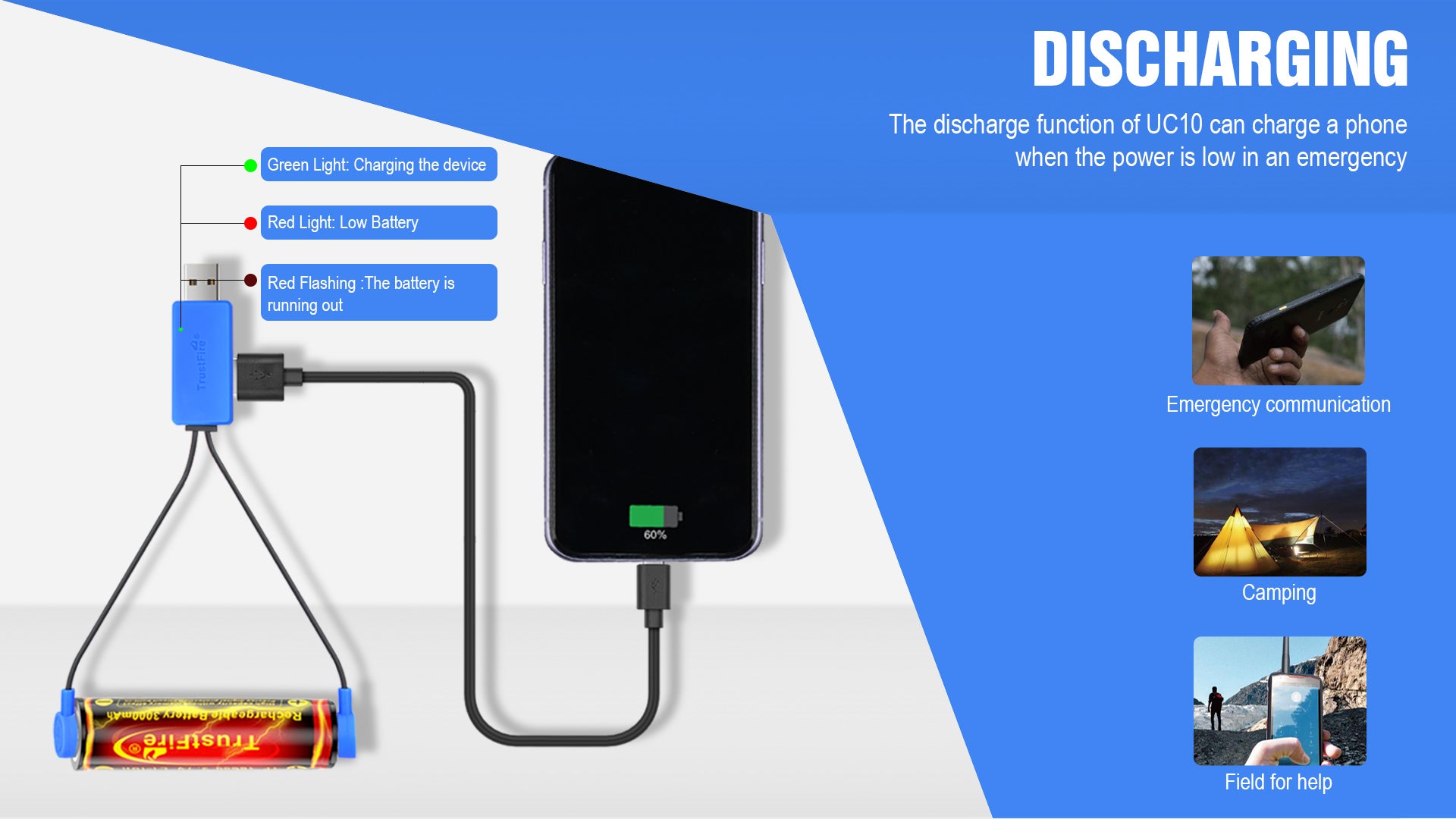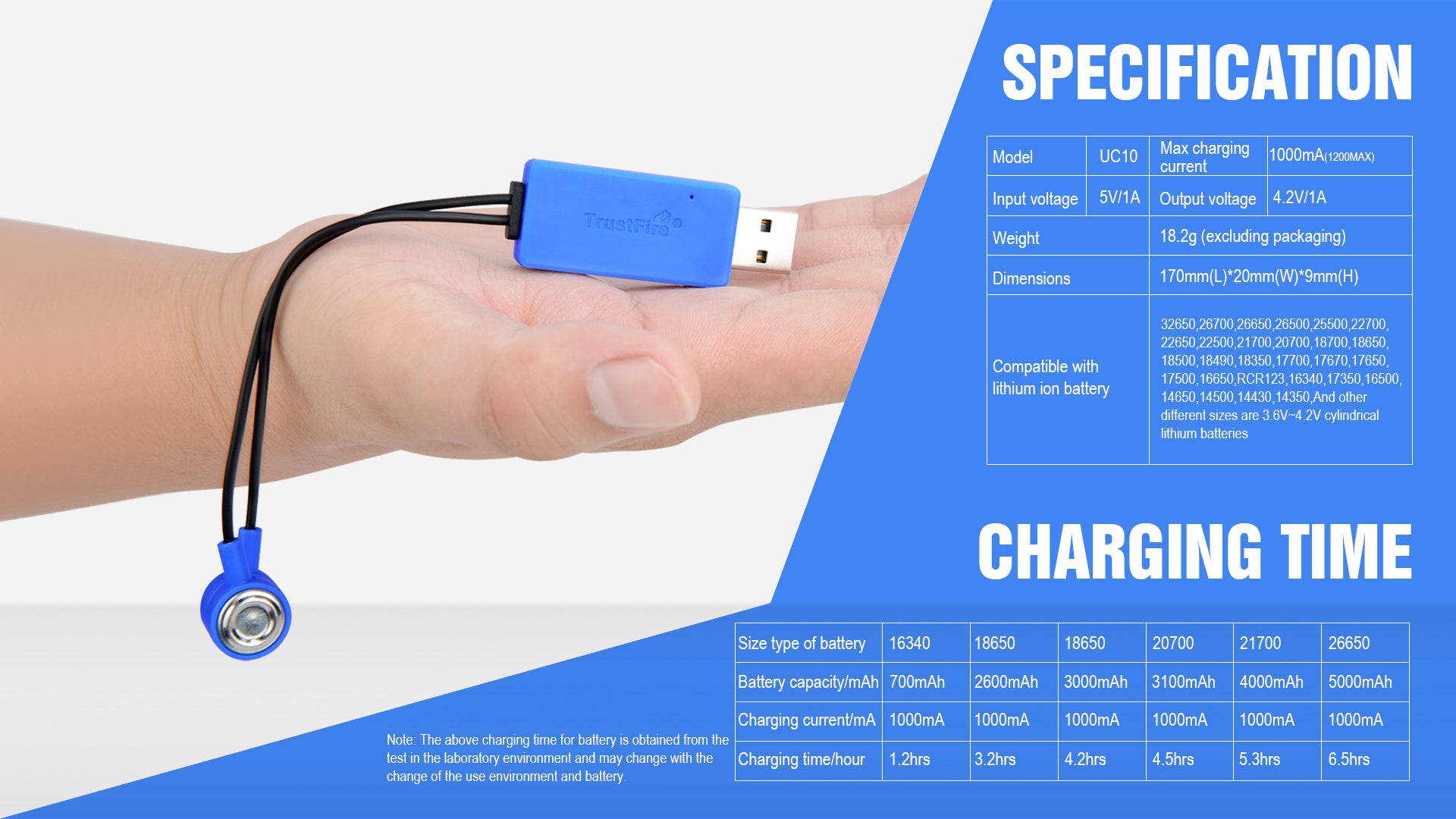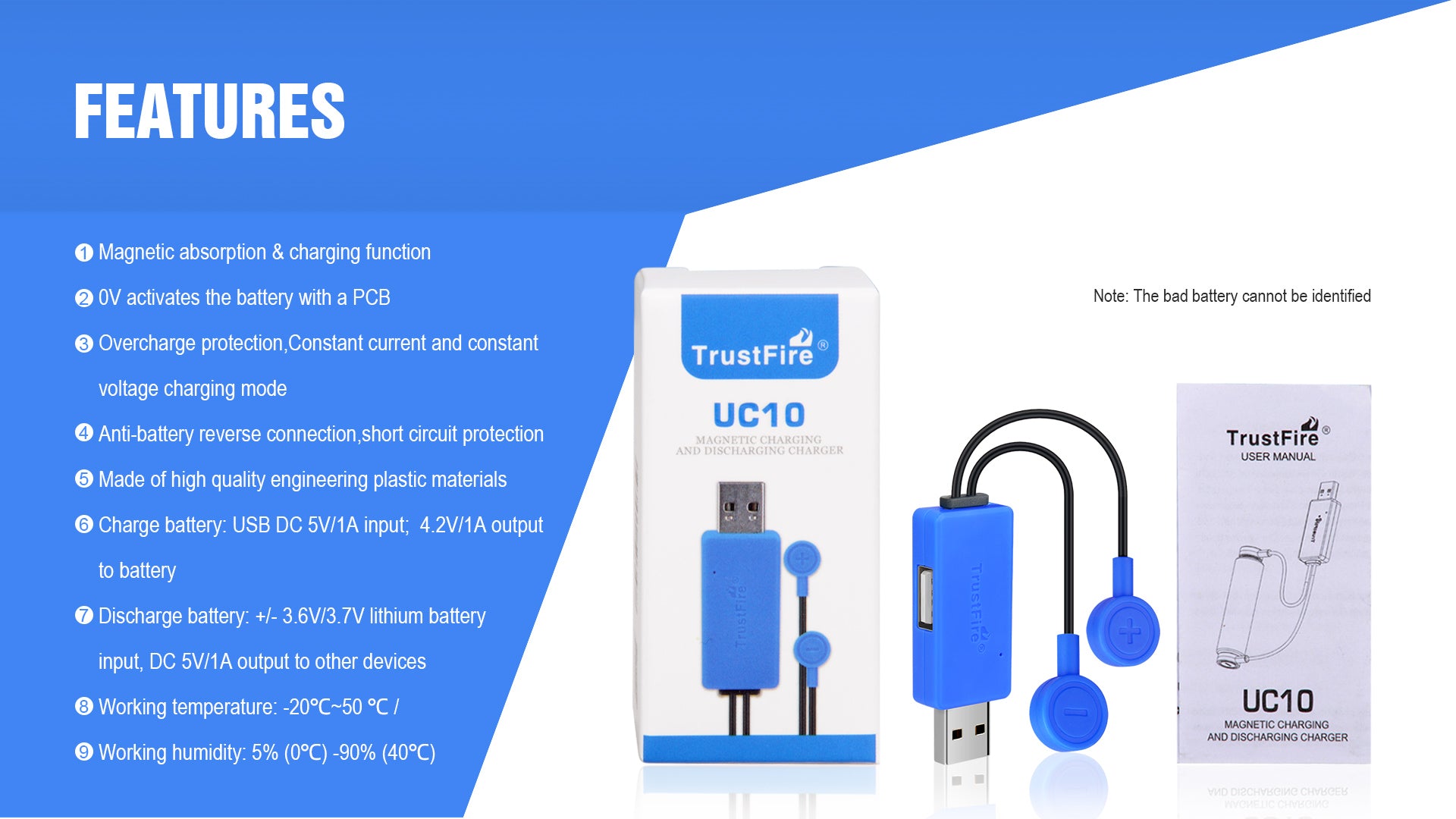 Very compact. The batteries charge with a current from 1A to the end of the charging current drops to zero. At 18650, the green light will light up, and at 16340 will not light up. In the mode of the bank gives out 1.2a, when charging the phone, fast charge does not know. at the same time it is decently heated. For tourism it is. Sent quickly, came without problems.