Low mode: 35LM(112 hours running time/ 140 meters beam range/4900 cd)
Medium mode: 350LM(26 hours/429 meters/46010 cd)
High mode: 1200LM/4.2 hours/736 meters/135424 cd)
Turbo mode: 4800LM/100 minutes/1600 meters/640000cd)
Strobe: 4800LM
IP-68 standard waterproof
265mm(length)*70.2mm(head diameter)*26mm(body diameter)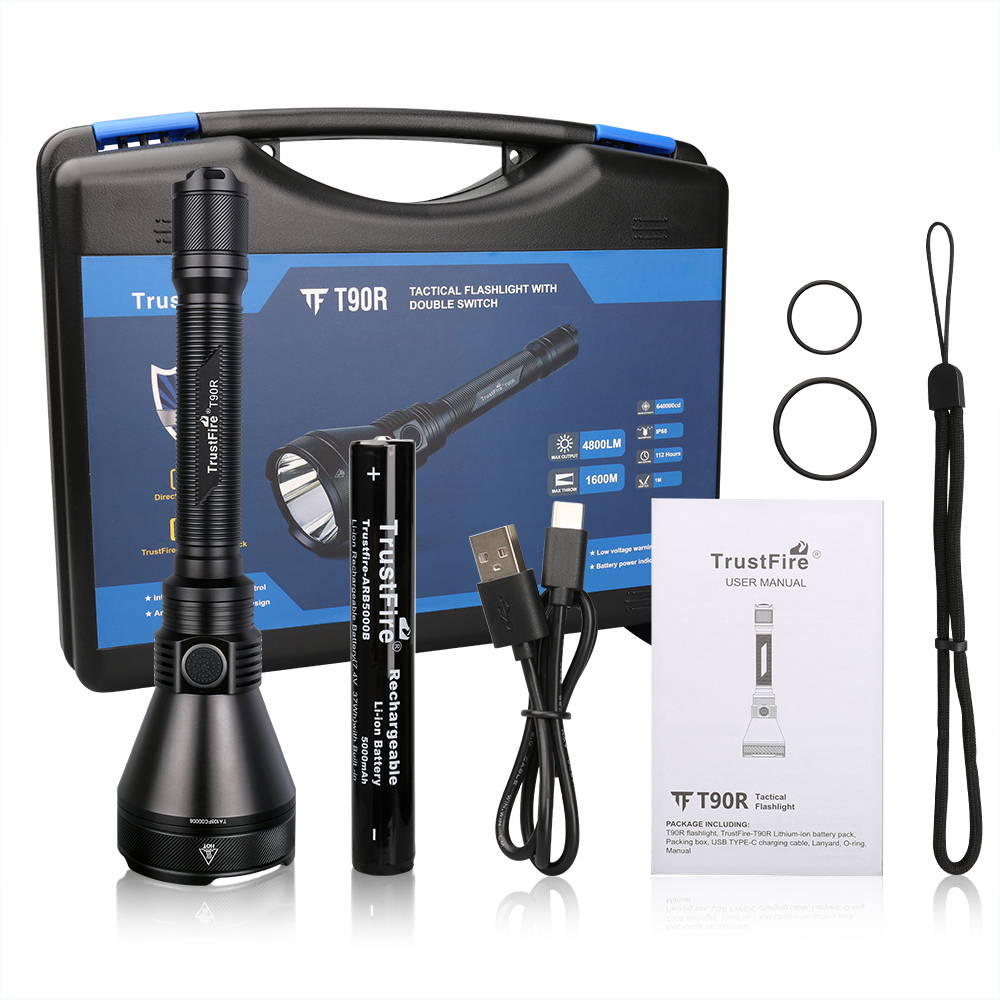 1x TrustFire T90R tactical flashlight
1x battery
1x usb charging cable
1x lanyard
1x user manual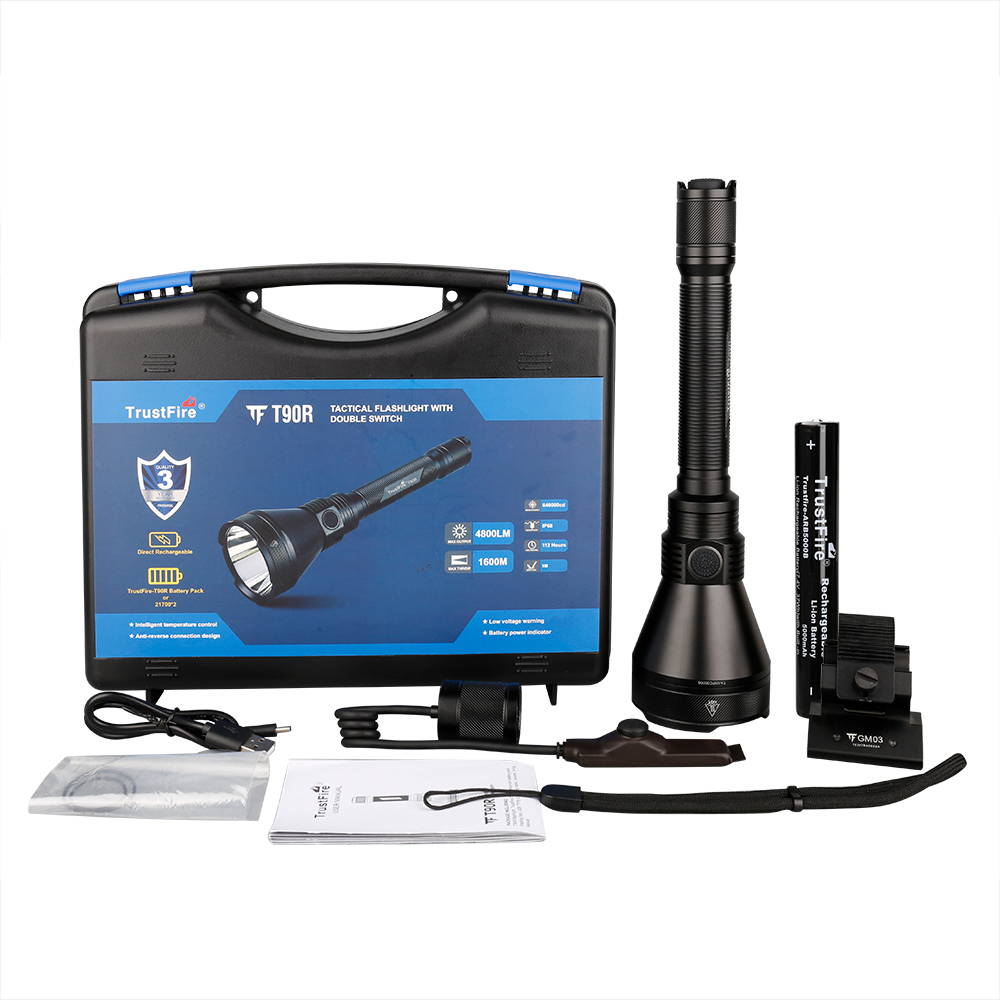 1x TrustFire T90R tactical flashlight
1x battery
1x usb charging cable
1x lanyard
1x magnetic flashlight mount GM03
1x remote pressure switch
1x user manual
Our flashlight products are simple and easy to operate. If you have any follow-up questions, you can contact us at any time.
For questions and problems, you can always get in touch with our support desk, so we can get you back, up and running.
EXPLORE THE TRUSTFIRE T90R FLASHLIGHT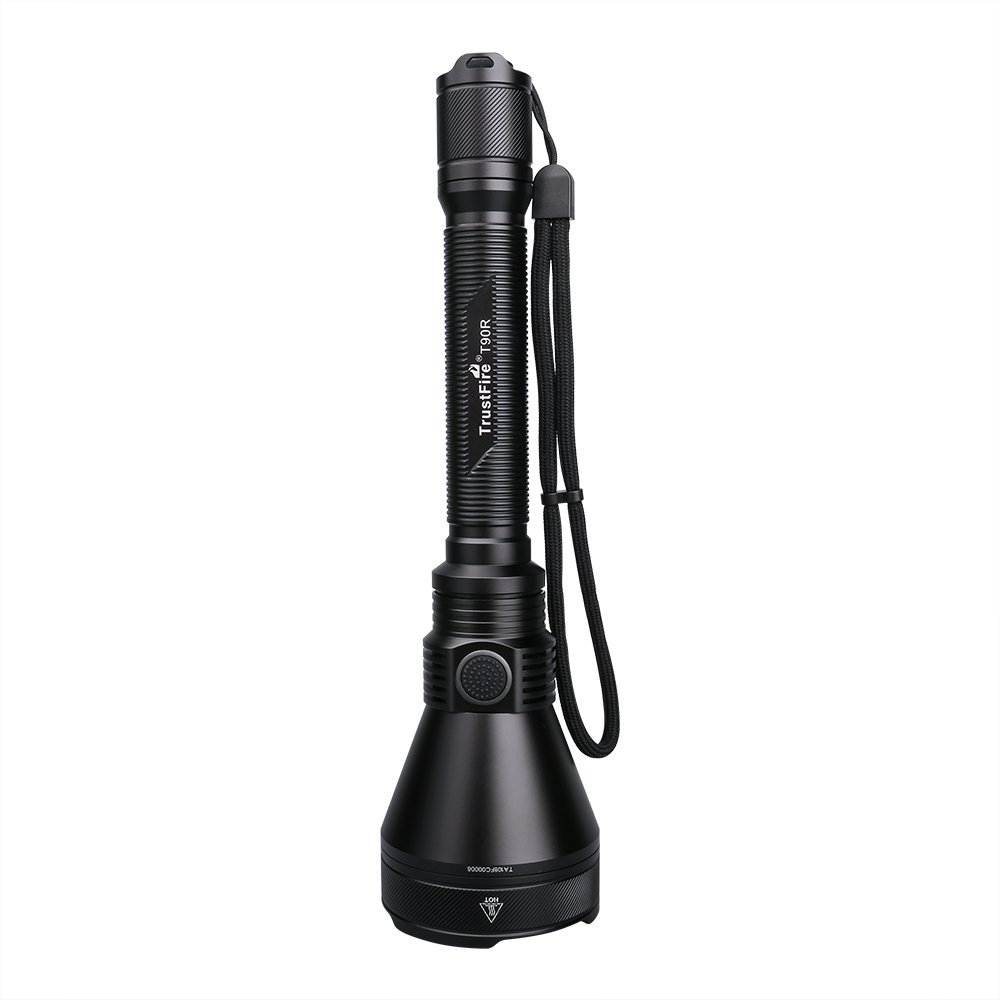 Max 4800 lumens brightness and 1600 meters longest beam distance
Made of aerospace aluminum material and the surface is with military grade lll hard anodizing anti-wear treatment
Temperature Control System
Built-in intelligent temperature control system to prevent overheating during the useof flashlight
A More Durable Flashlight
Using the international patent latest generation LED, life of 50000 hours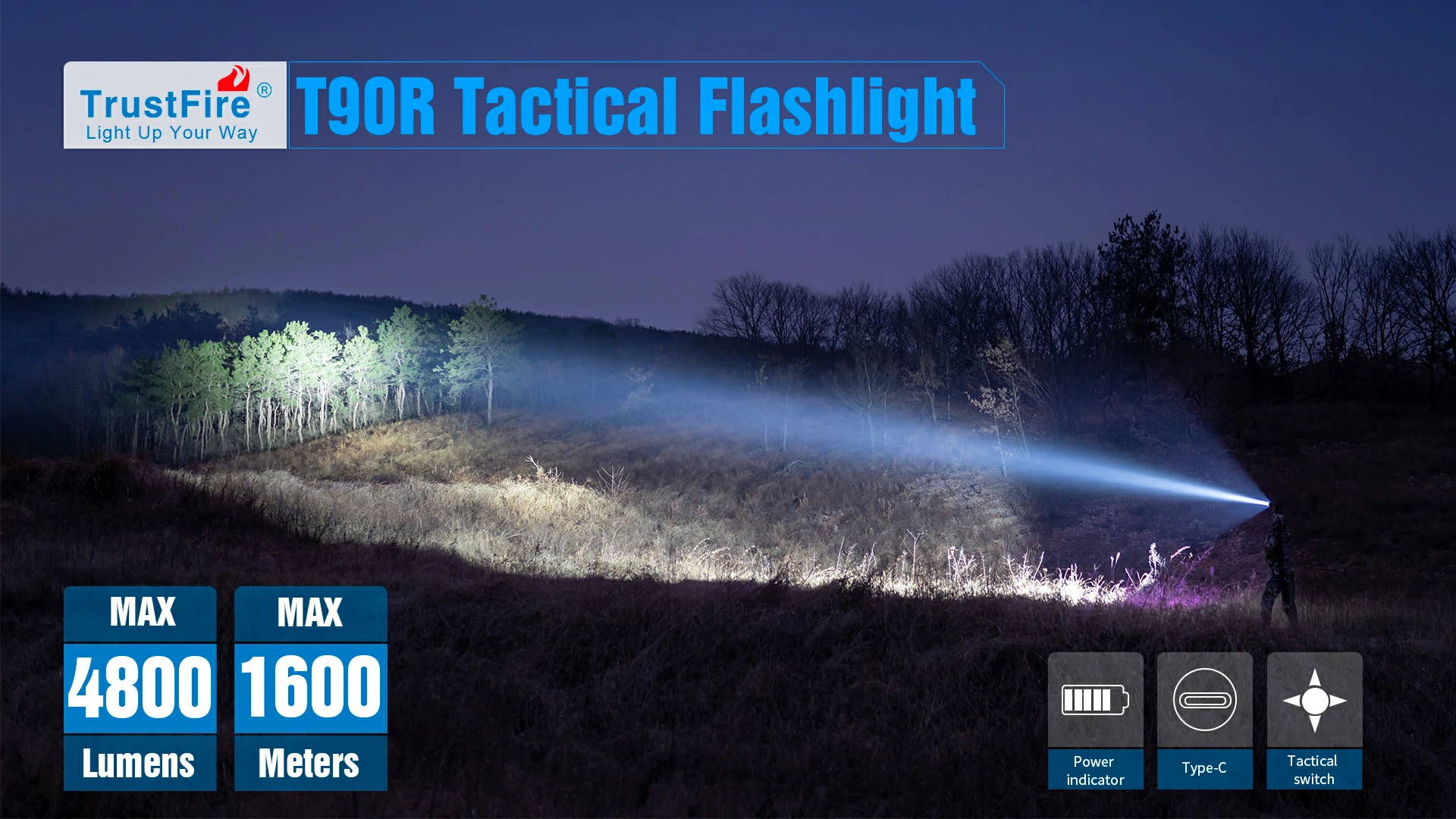 With 4800 lumens brightness and 1600 meters maximum beam distance, you can easily cope with all situations.
T90R is very suitable for a variety of outdoor lighting activities such as military and police tactics, outdoor search, hunting, and expeditions.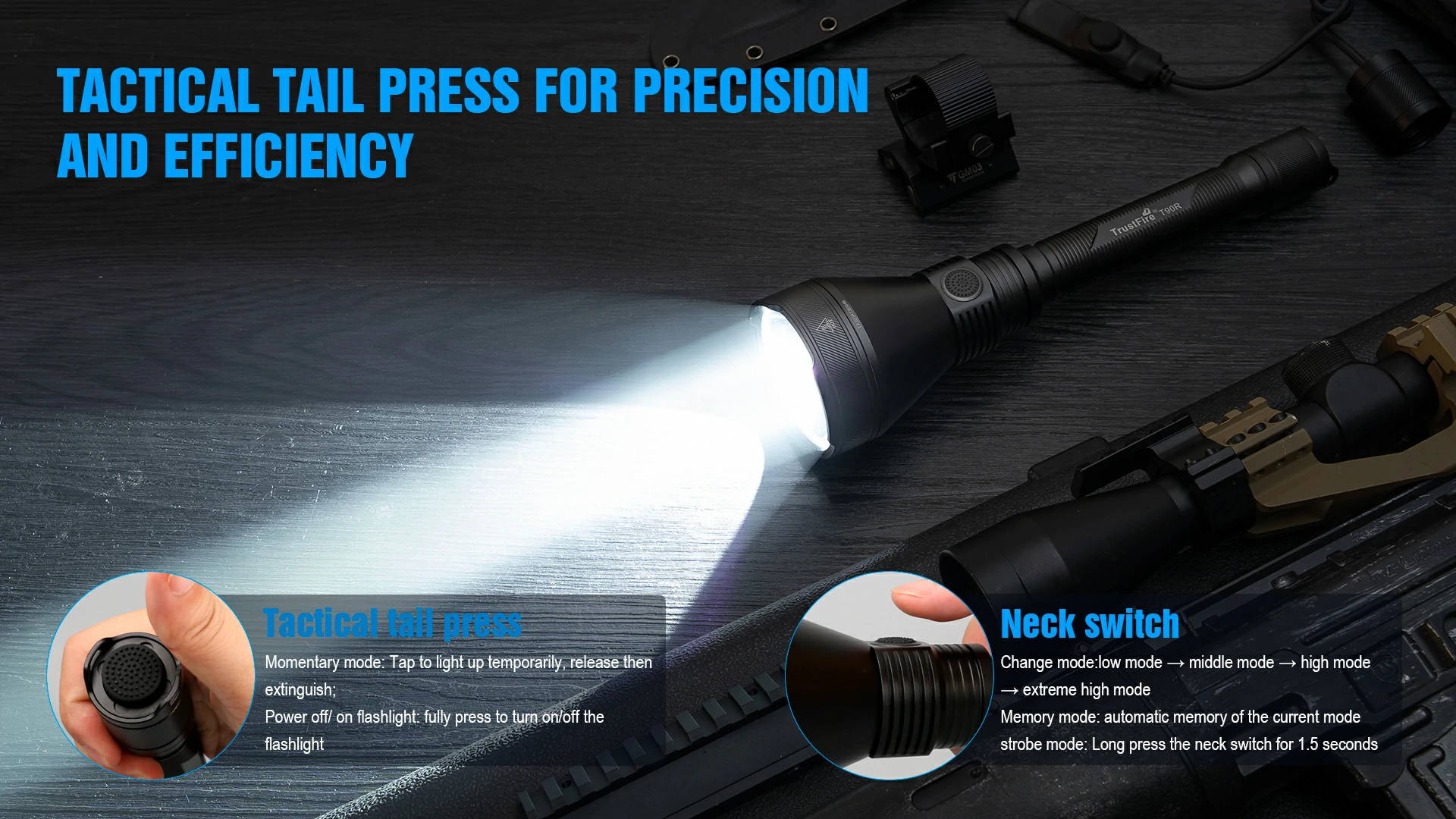 Easily switch gears to adapt to any scene.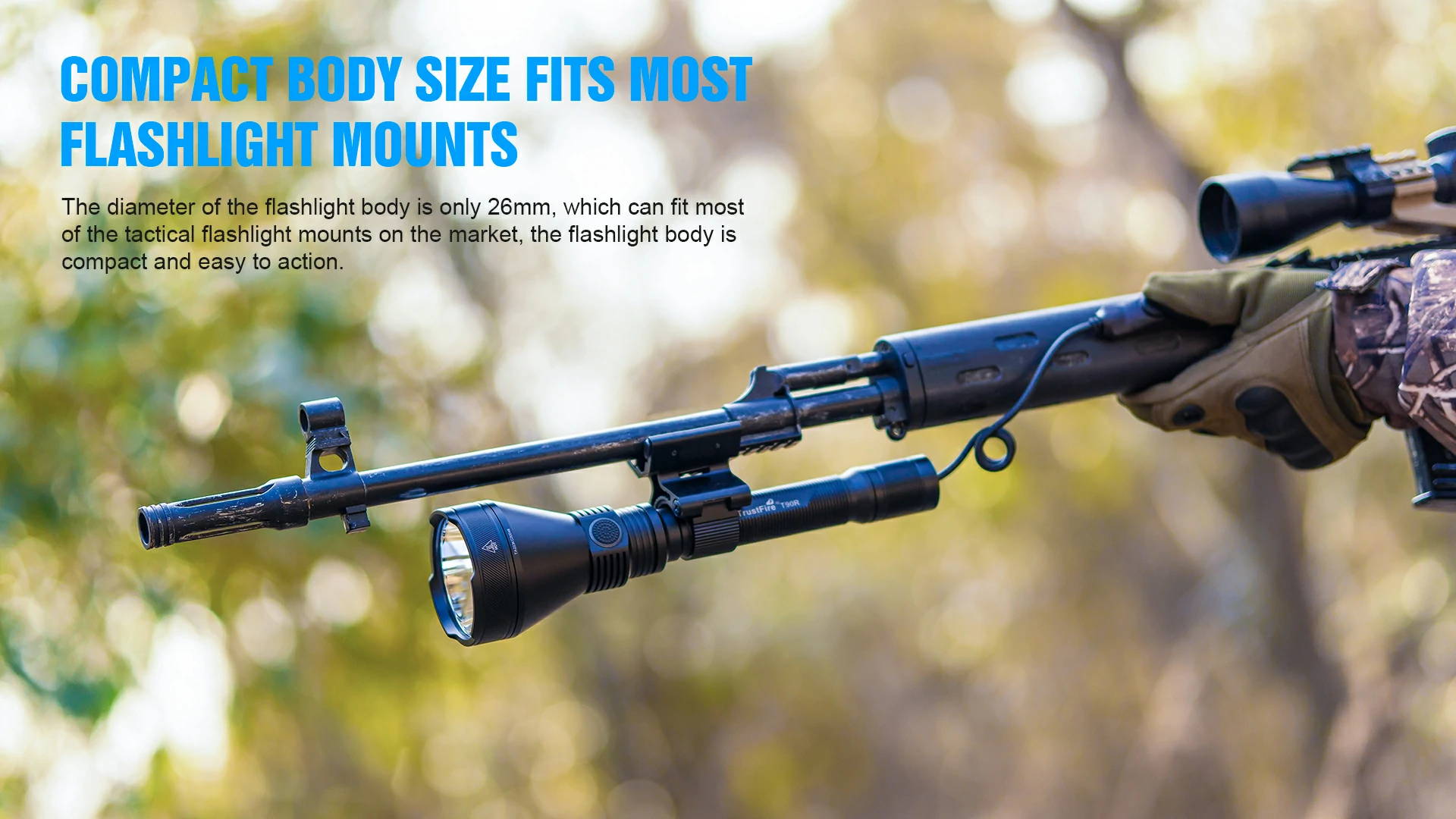 The diameter of the flashlight body is only 26mm, which can fit mostof the tactical flashlight mounts on the market, the flashlight body iscompact and easy to action.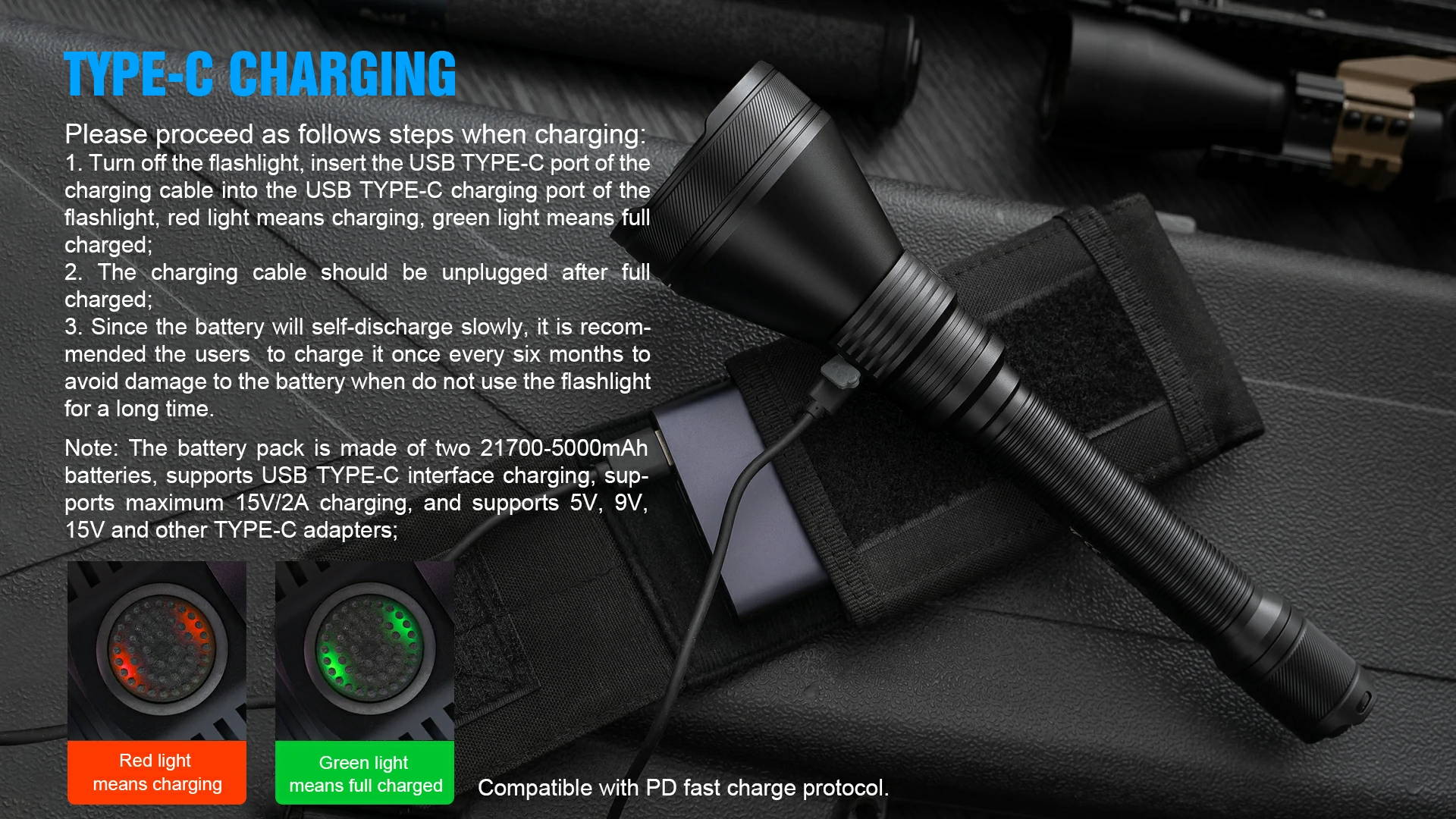 Turn off the flashlight, plug the USB TYPE-C port of the charging cable into the USB TYPE-C charging port of the flashlight to charge.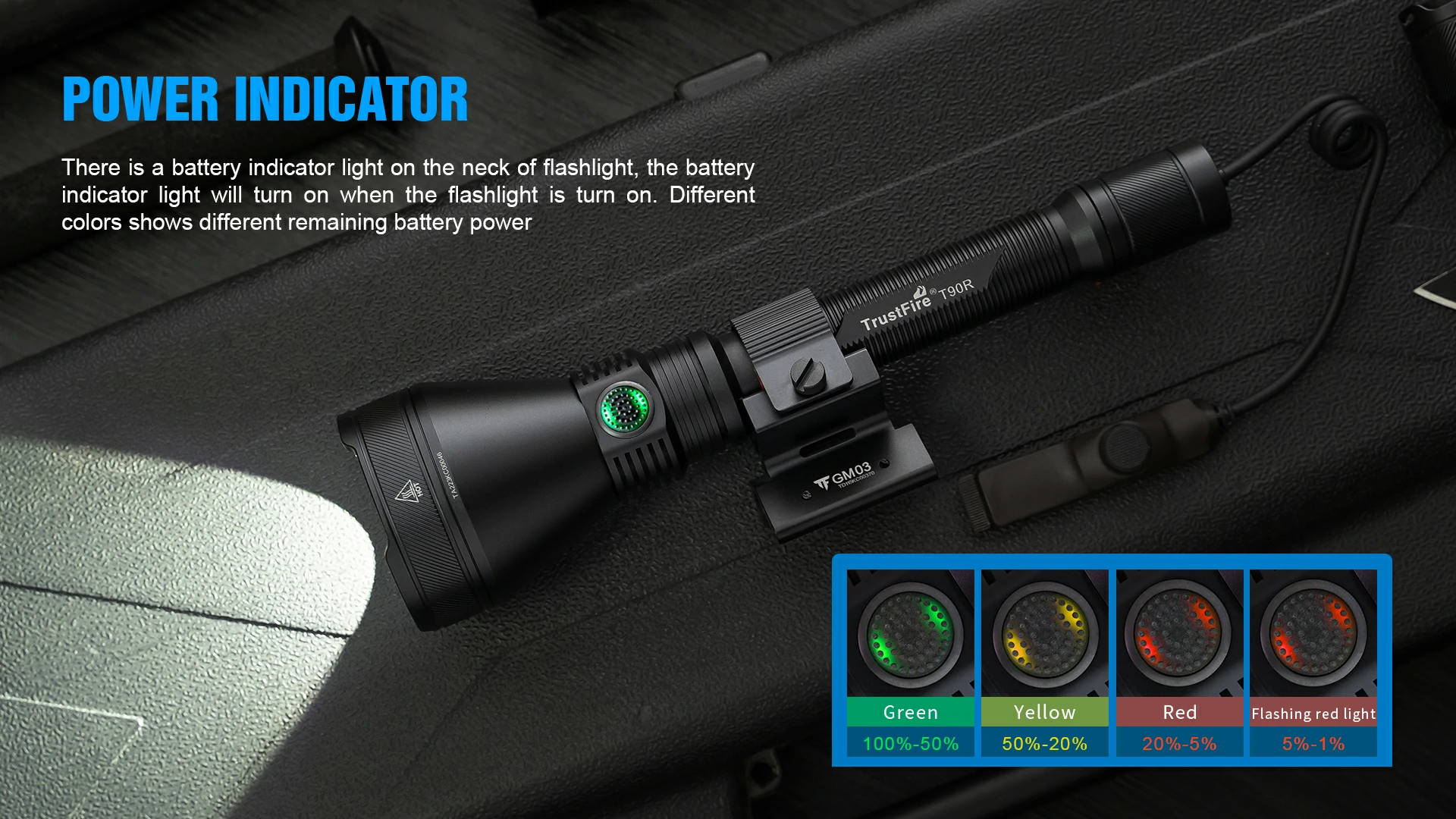 Different colors display different remaining power levels to avoid power anxiety.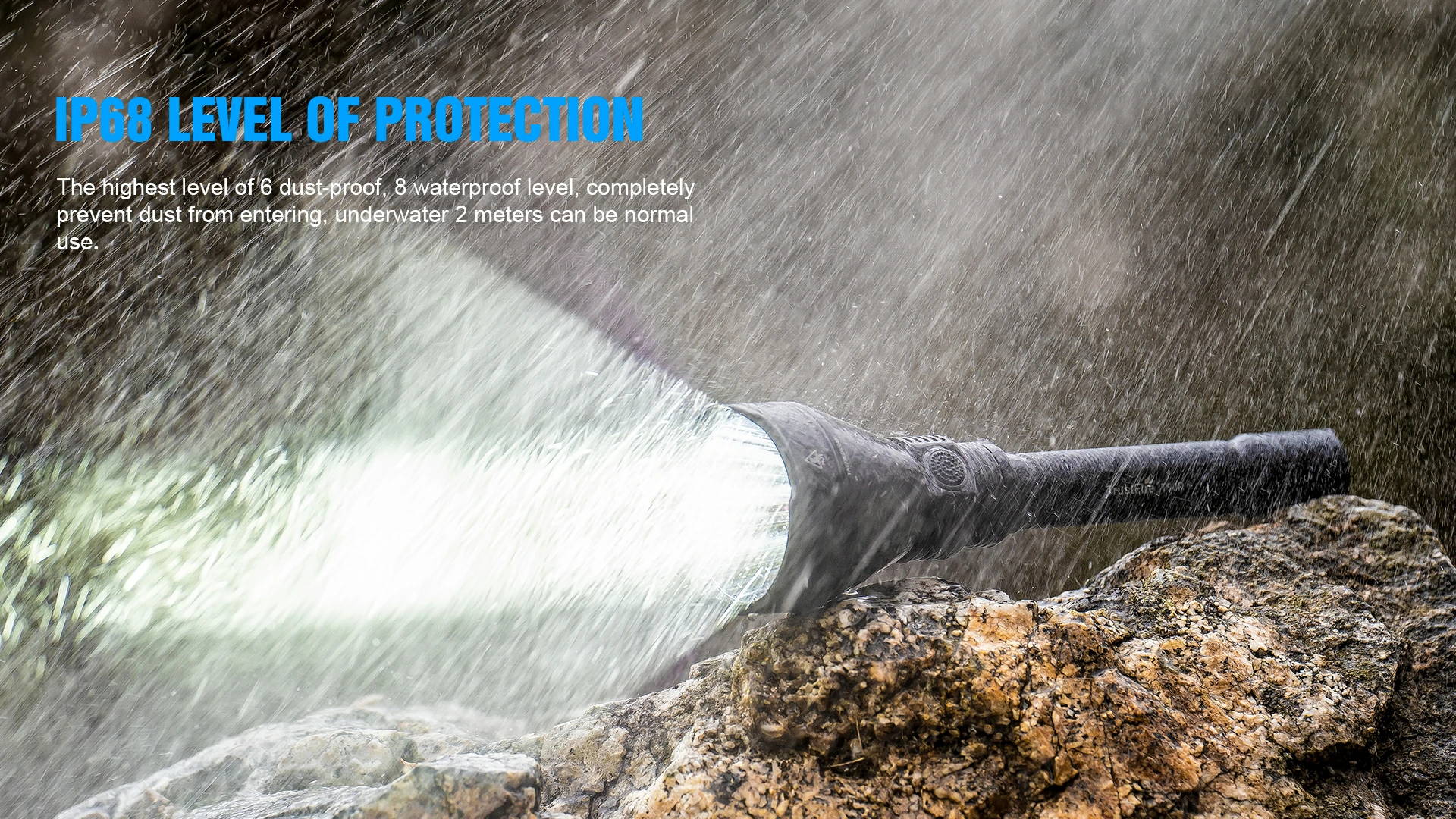 Completely prevent dust from entering, and can be used normally under 2 meters of water.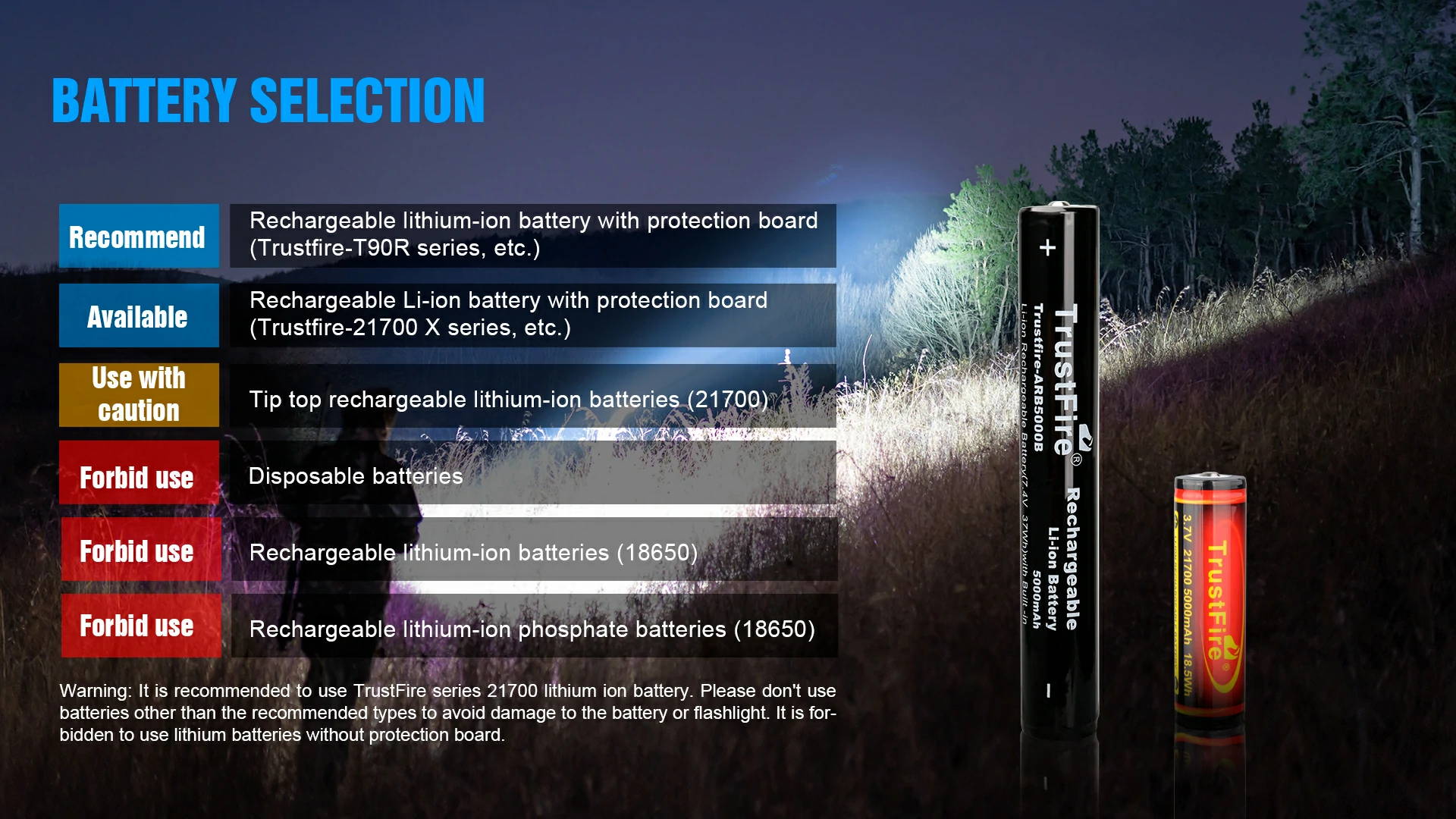 Rechargeable lithium-ion batteries with protective plates are recommended (Trustfire-T90R, Trustfire-21700 X-series, etc.)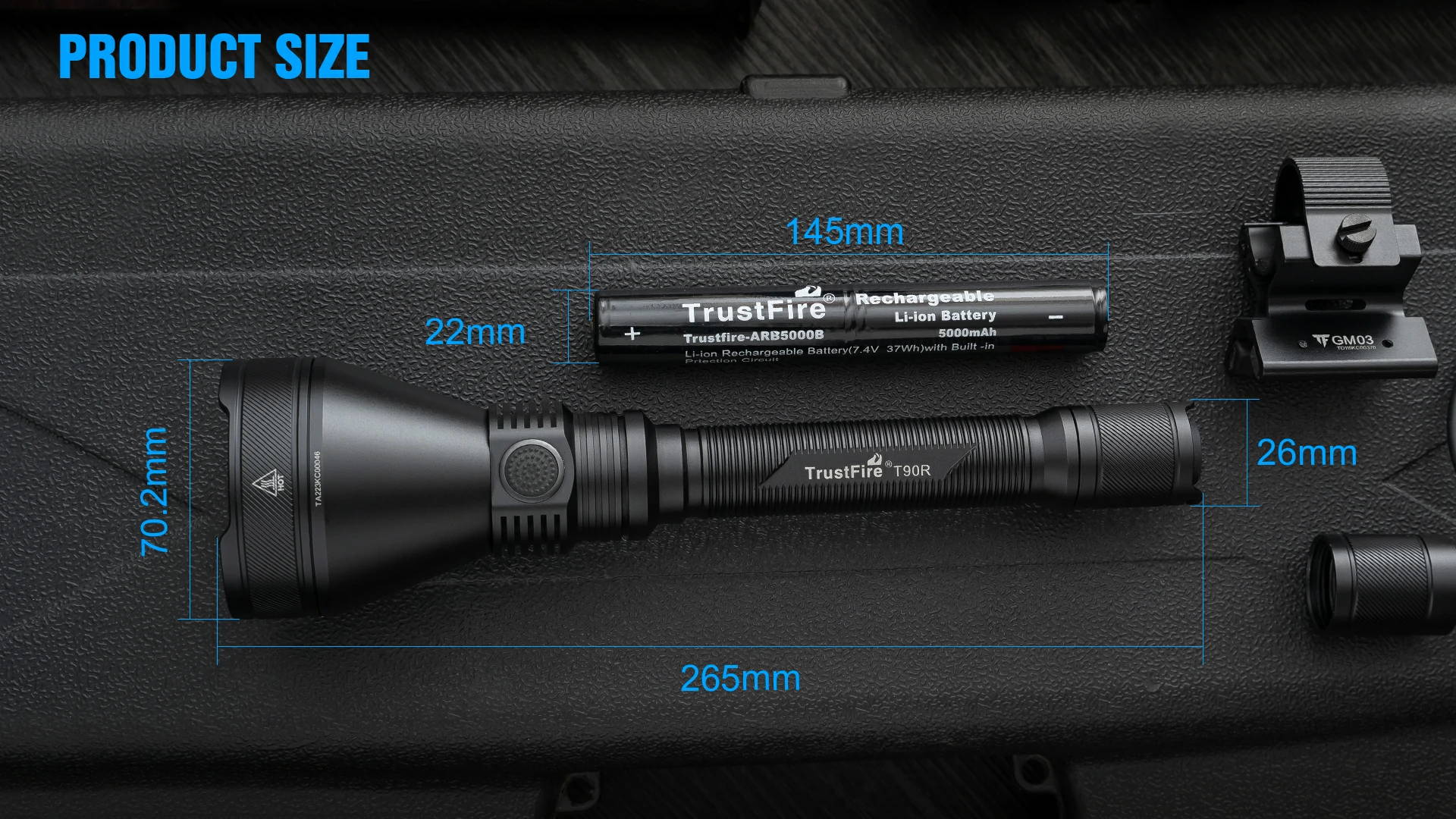 Lightweight design, very easy to carry, whether it is outdoors or indoors, it can be easily taken away.
EASY TO USE, IMMERSIVE EXPERIENCES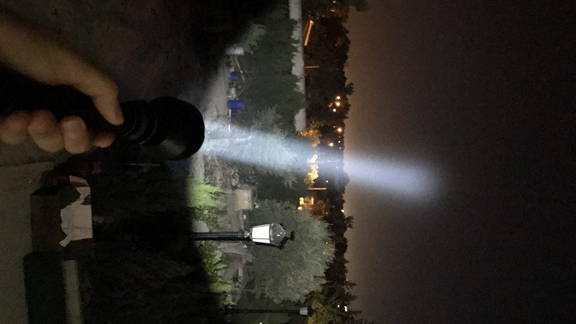 "I have not used the flashlight for hunting, I was looking for a powerful flashlight to go through the field if I did worry about the light and it works perfectly.
It has plenty of power to go in the dark, it gives light up to 200-300m easily. It gets a little hot but we're going for something normal, it has a very robust metal body and the battery lasts a few hours without a problem. I have loved it for its value for money or at the moment not a single problem. It comes with a small case to transport it very comfortable and safe"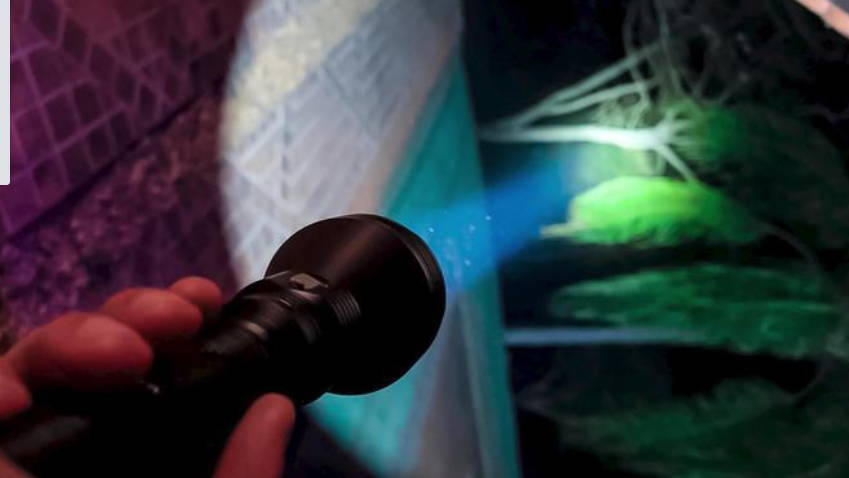 Ideal para deportes aire libre
"Es perfecta para ir al monte de caza, he quedado alucinado con la distancia a la que llega la luz a alumbrar, no se si realmente seran los 1000 metros que dicen porque no lo he medido, pero estoy seguro que por ahi anda. Funciona con dos baterias recargables, que vienen incluidas y duran un montonazo, aun no he tenido que recargarlas, y se recargan con un cargador que tambien viene incluido en la maleta.Para los momentos en que no se necesite tamta potencia, se puede bajar de intensidad con un boton en varios niveles distintos."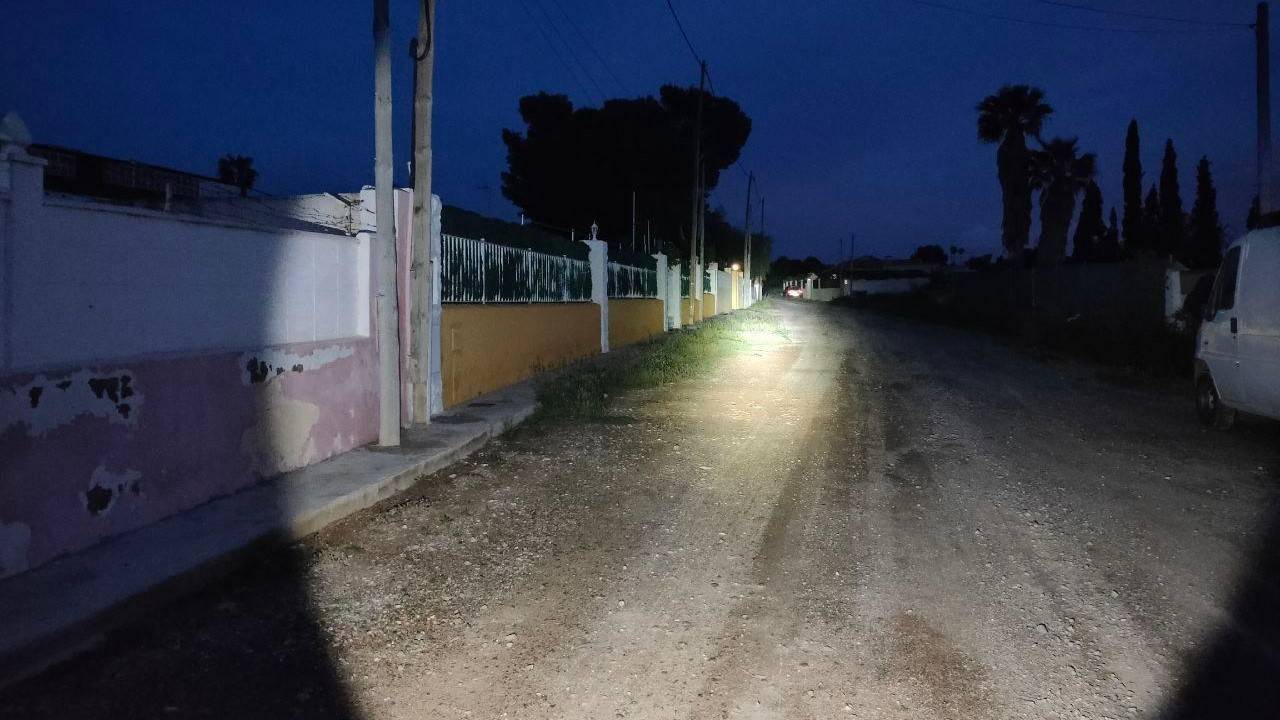 "On the road 3,000+ miles a week and since I've received this light it's been used in rain, dense fog, and white out conditions always finding what's intended! Great distance and Superior lumens."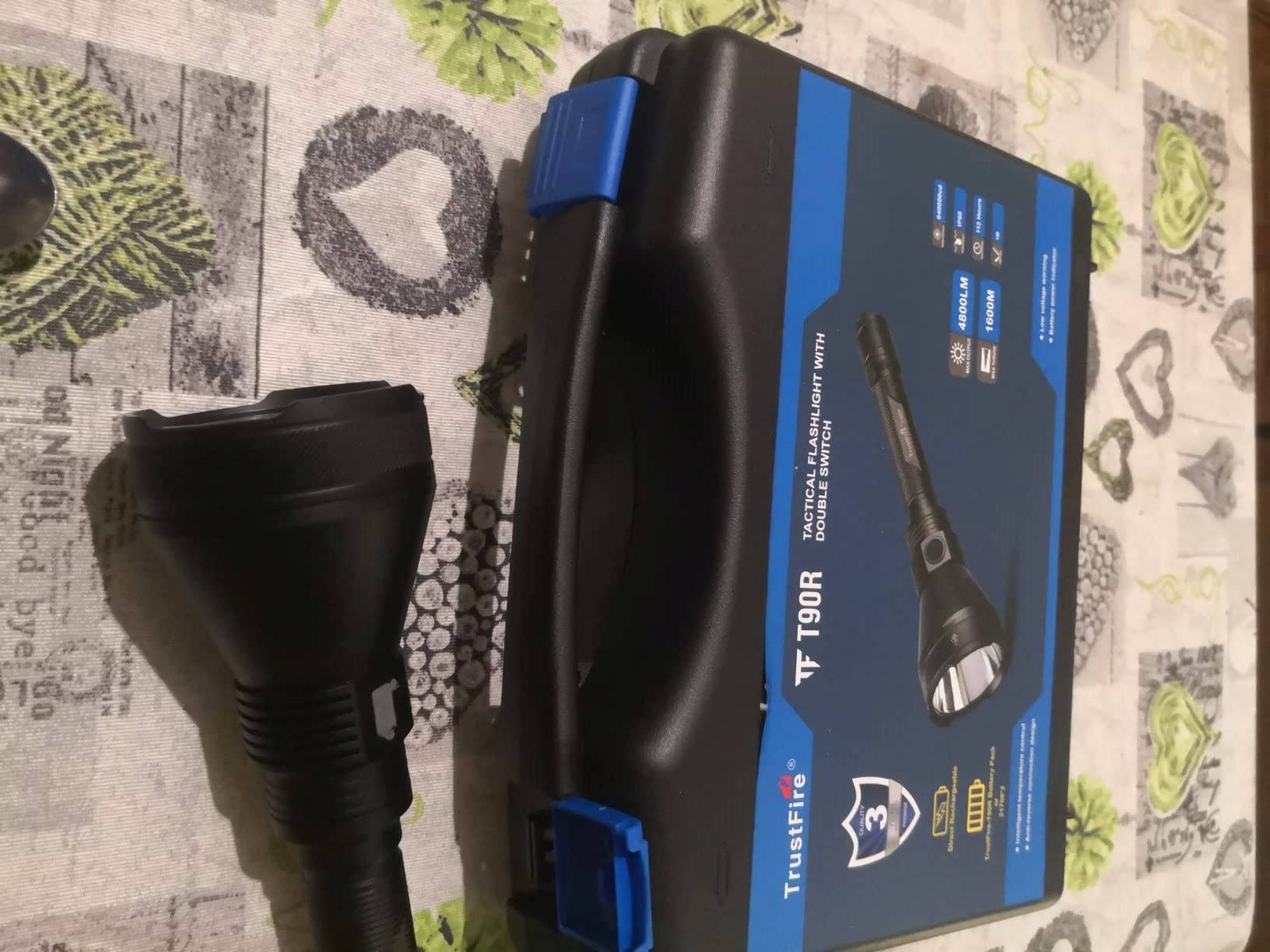 " Really great thrower!!!Comes with everything needed, including a battery pack. This thing is bright and throws that beam 1000+ meters. Very impressed so far!"