Trustfire MC5 Powerful 3300 Lumens Magnetic Rechargeable 21700 High Power 5 Modes EDC Lamp Outdoor Lighting
MC5 multi-functional magnetic flashlight

The MC5 is a high performance, maneuverable EDC flashlight

Max brightness up to 3300 lumens, max beam range up to 362 meters

Feature: Magnetic charging ,Power indicator ,Magnetic bottom, triple protection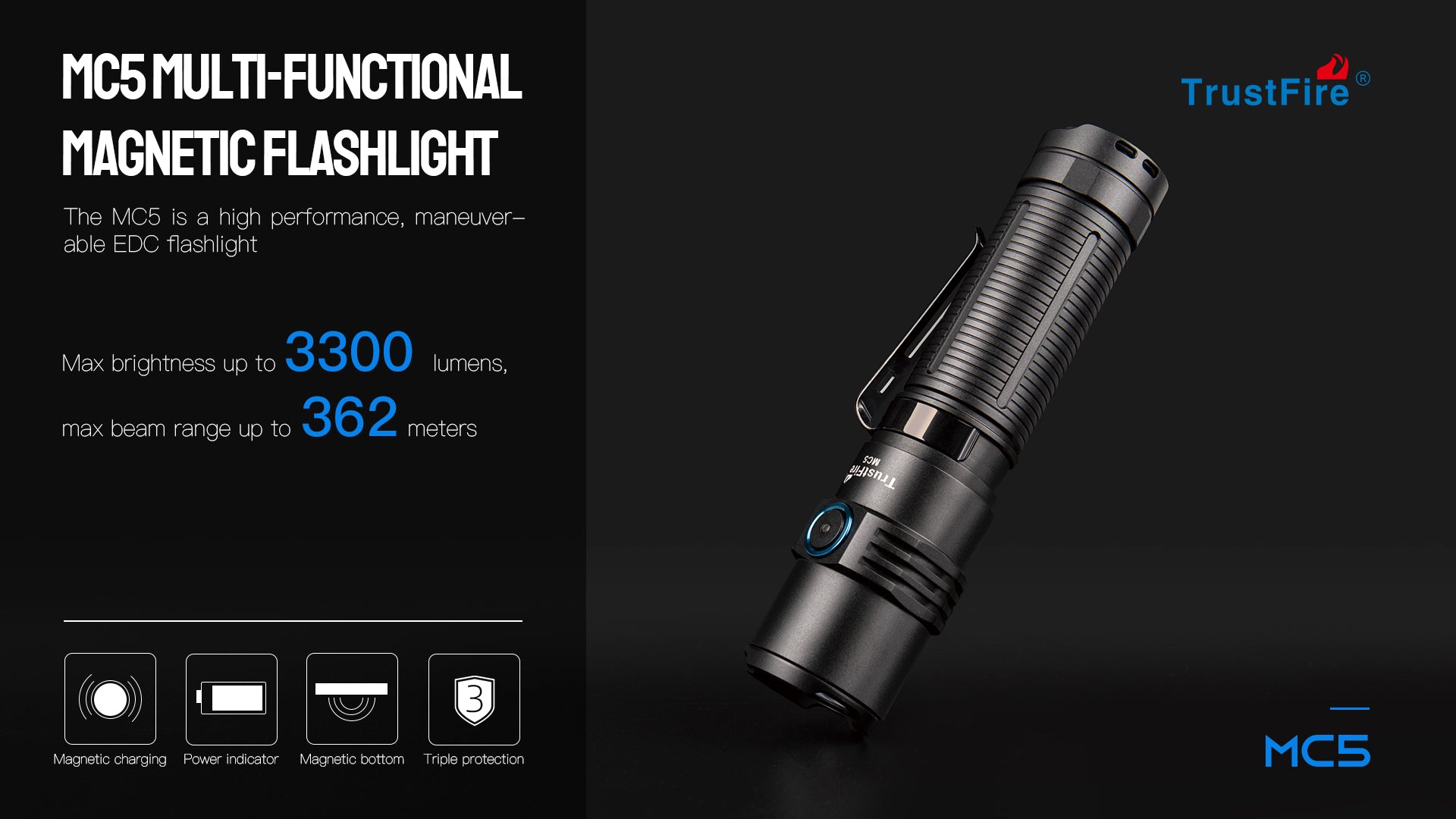 Magnetic suction at the bottom Free your hands
Tail built-in strong magnet, to ensure that the flashlight suction, solid, do not fall off, multi-directional to provide lighting, easy to release hands.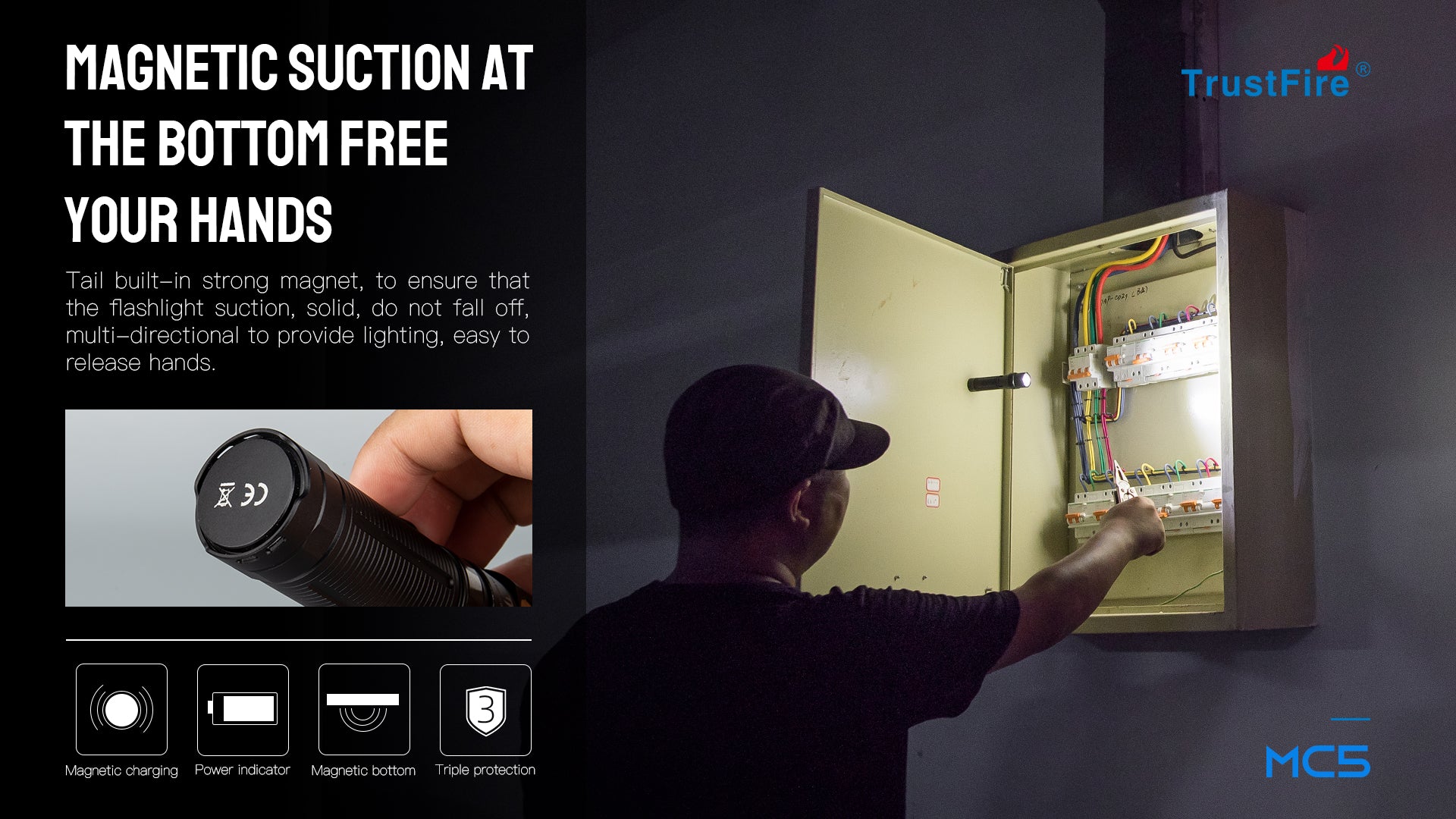 3300LM Conquer the darkness
MC5 adopts the latest generation of internationally patented LED, with a life span of 50,000 hours, defying the darkness and illuminating your way forward.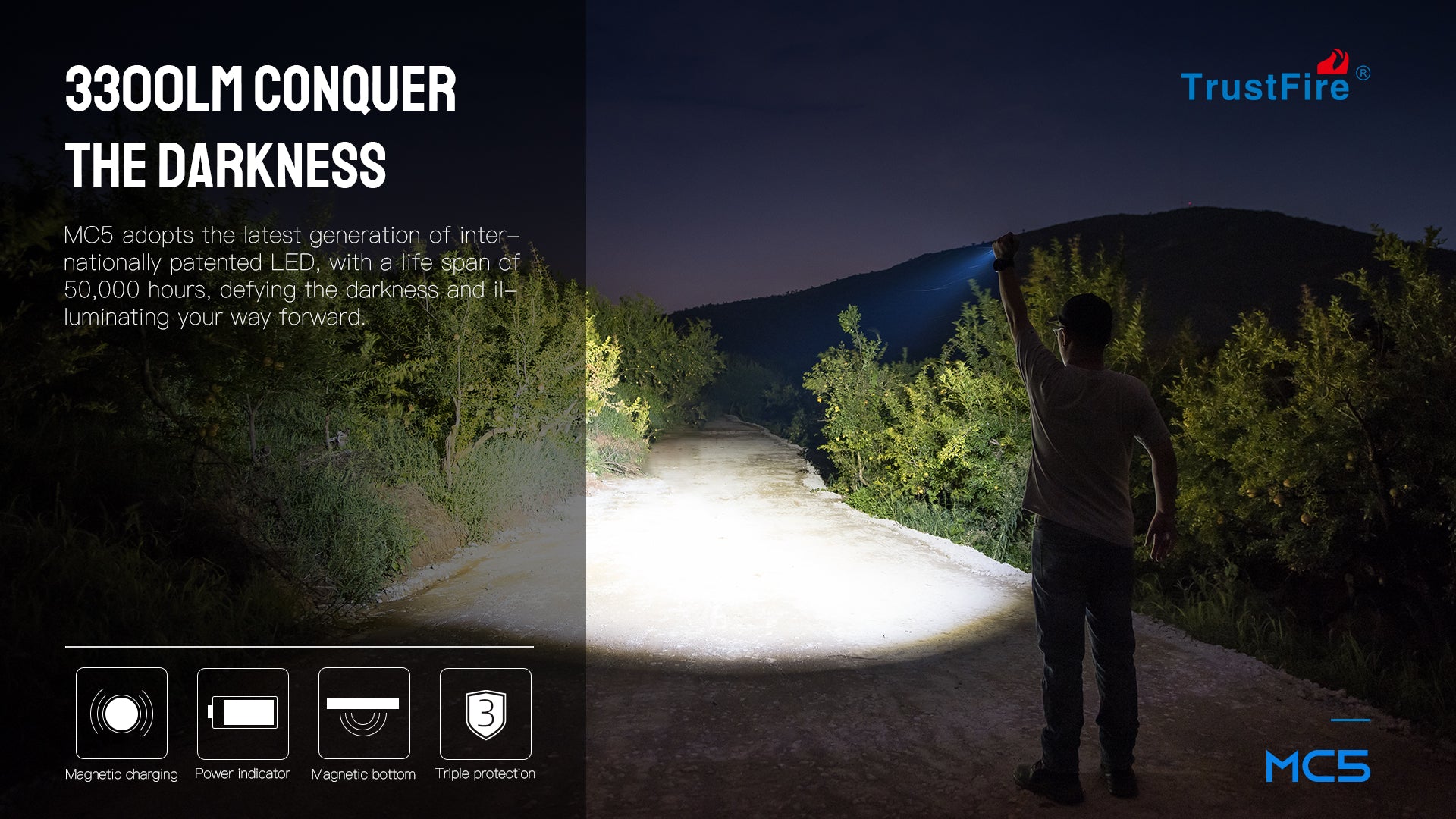 Magnetic charging, convenient and quick charge
Magnetic charging is very convenient and easy to operate in the dark.

Automatic adsorption

Magnetic charging cable interface, close to the flashlight charging position, you can automatically adsorption in place, and start charging, maximum current 2A.

Red: charging Green: Full charging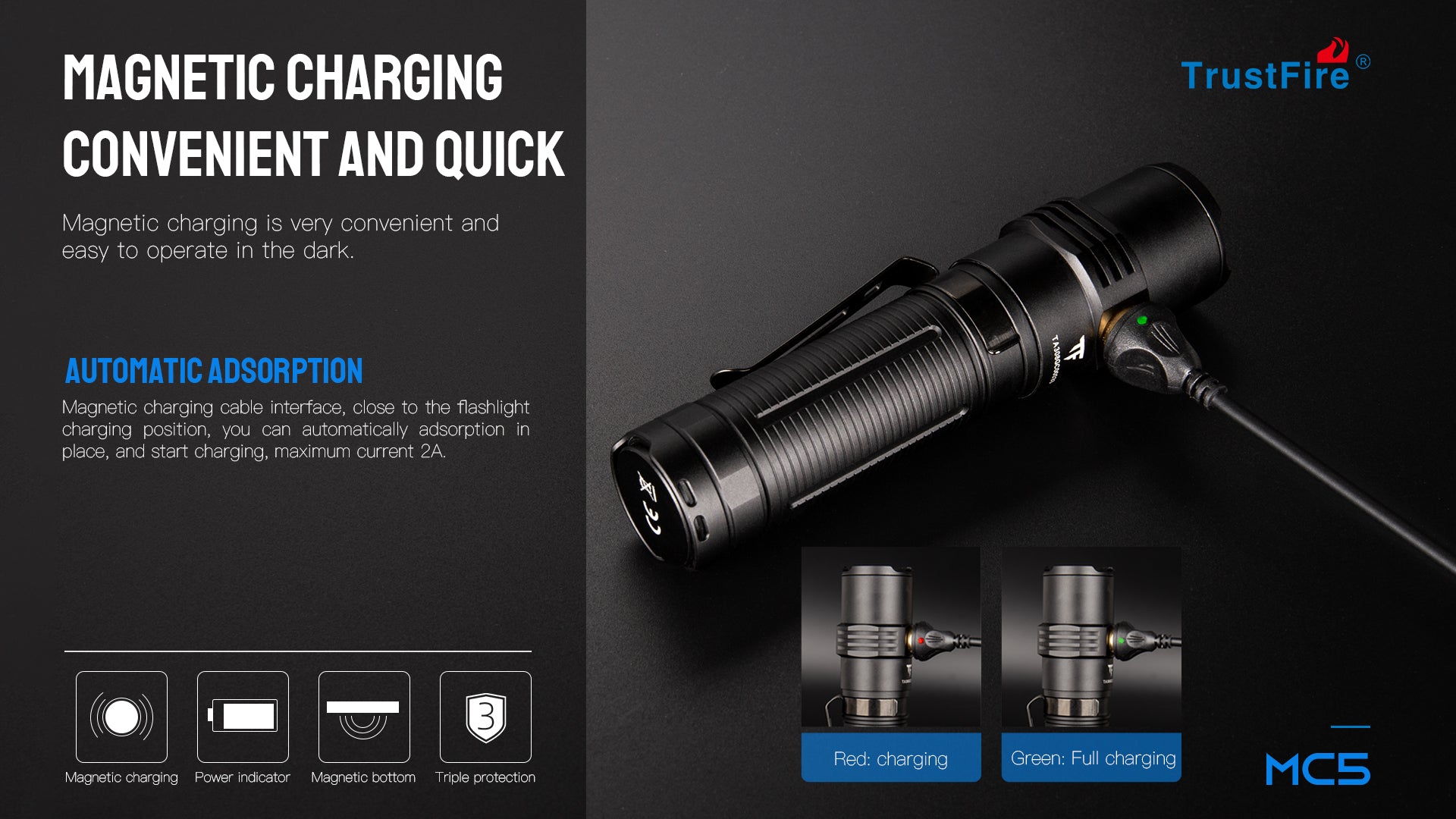 IP68 waterproof No fear of wind and rain
The highest level 6 dust-proof, level 8 waterproof, completely prevent dust from entering, underwater 2 meters can be normal use.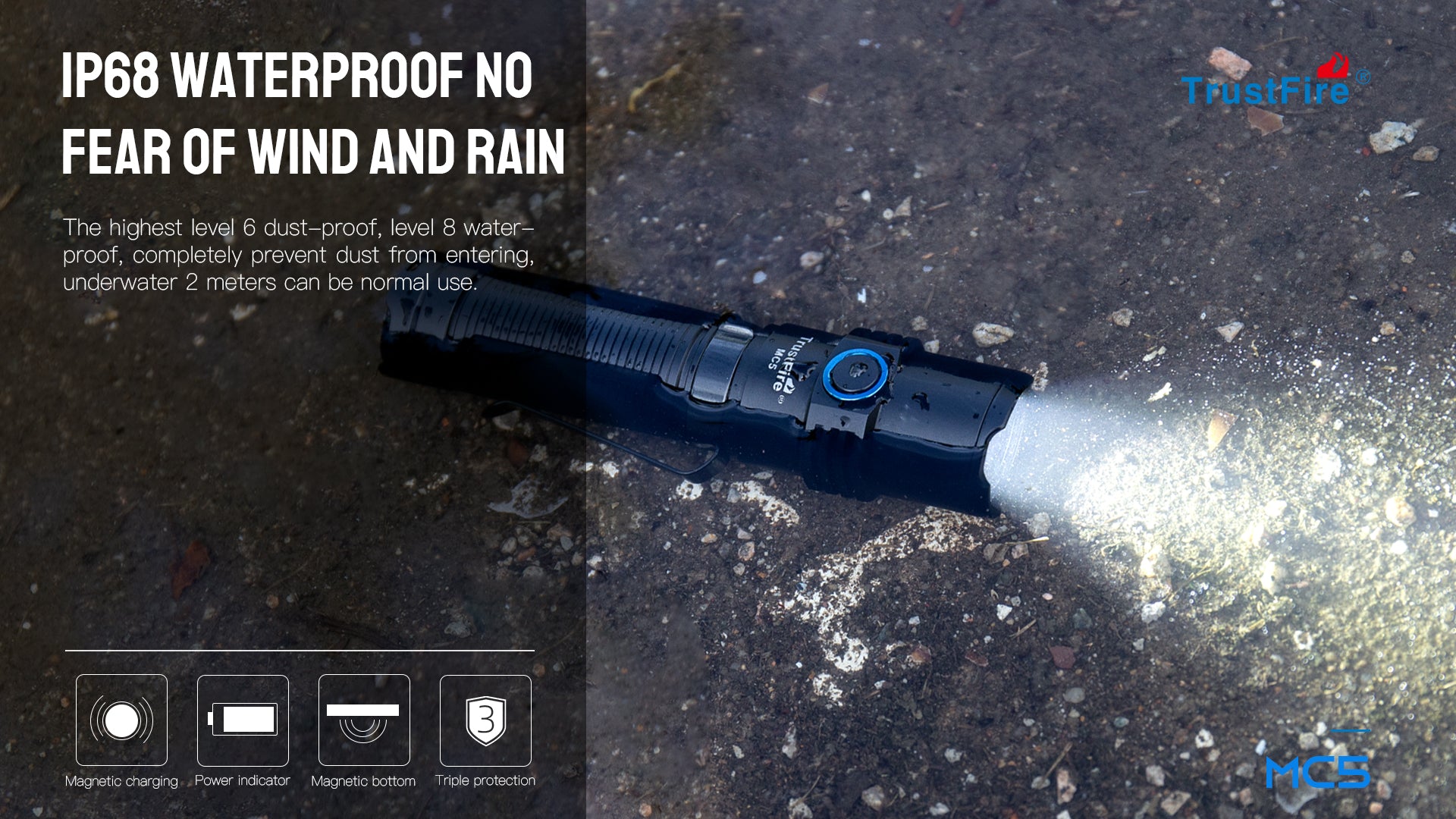 One-button operation, flexible and easy to use
Single button independent control, easy to use and comfortable.

Power on/off: long press for 0.5 seconds
Change modes: click (cycle switching)
Memory mode: automatic memory of the current gear
strobe mode: long press for 2 seconds
Lock/unlock: quick double click
Magnetic charging: automatic adsorption

Note: On / off, strobe mode are required in the
non-locked state.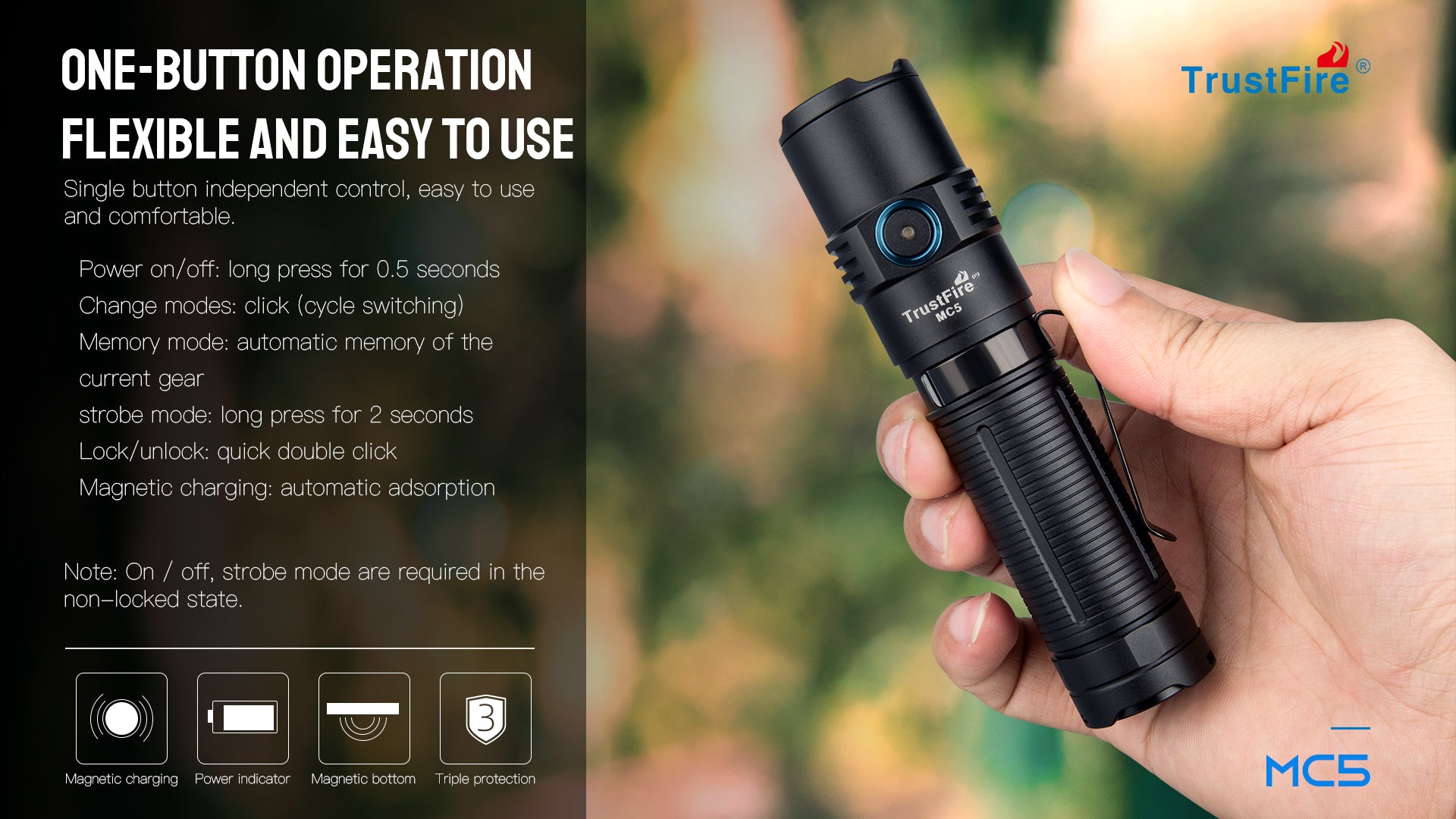 Power indicator at a glance
The neck of the flashlight has a power indicator, when the power is off, touch the switch, the power indicator lights up and automatically goes off after 2 seconds, different colors represent different remaining power, the corresponding relationship is as follows.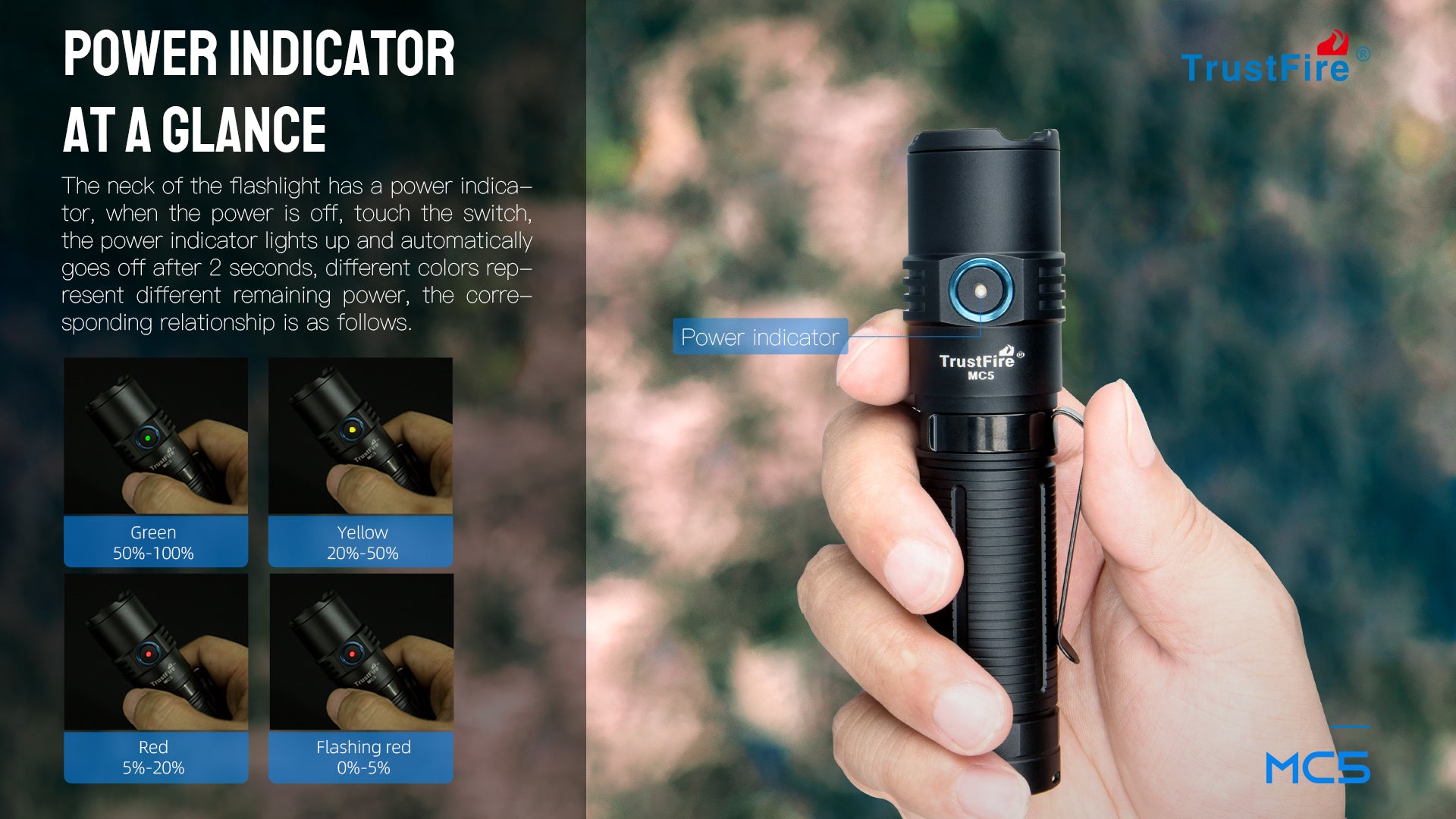 Alloy barrel Hard and durable
Made of aviation aluminum material AL6061-T6;
The surface is treated with military-standard three-level hard anodized anti-wear treatment;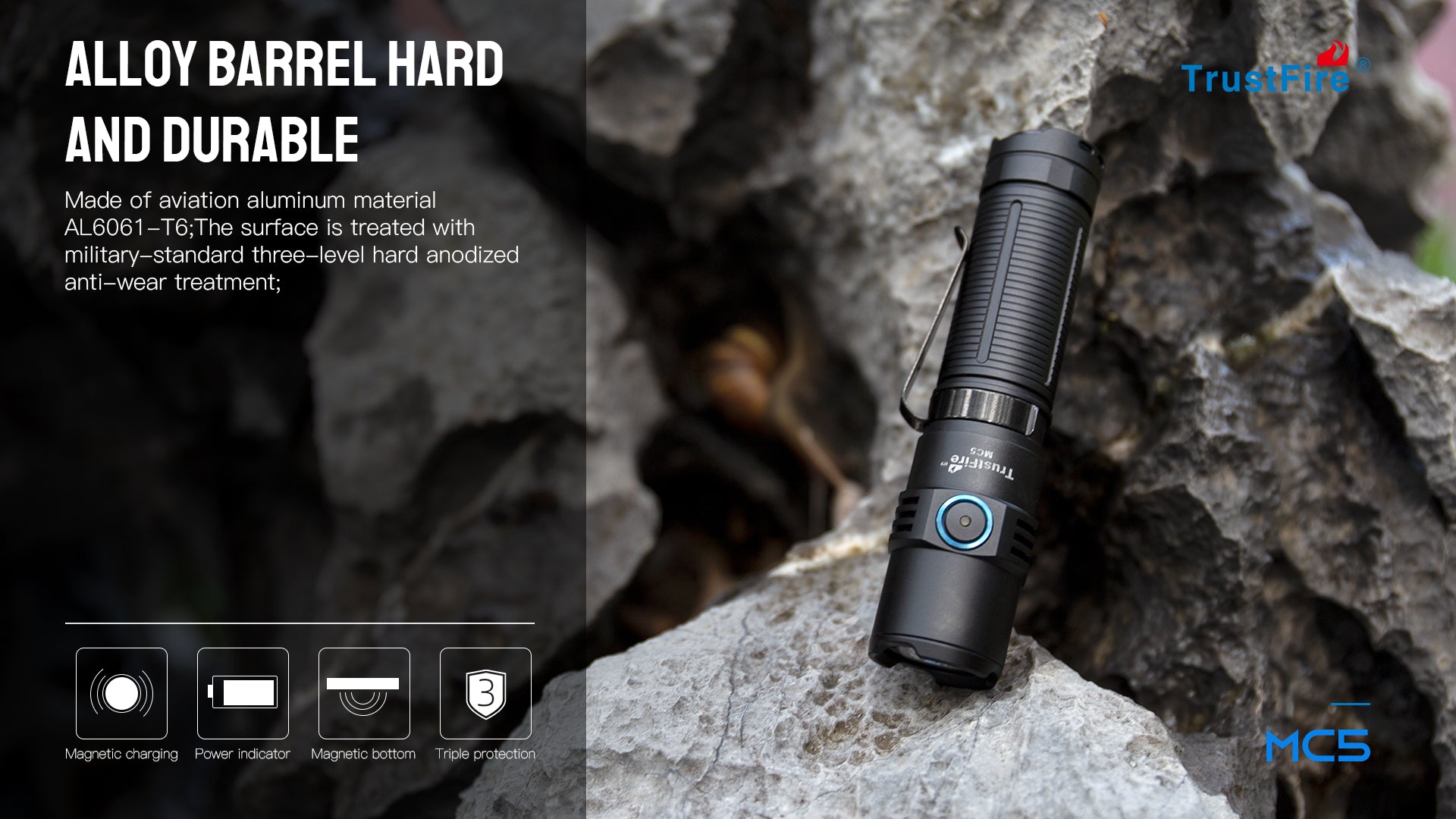 Product Features:
★Using the international patents latest generation of LEDs , lifespan of 50,000 hours;
★Neck magnetic charging, with charging indicator and power indicator function, comes with special magnetic charging cable;
★Tail magnetic attraction fixation function;
★Built-in intelligent temperature control system to prevent the flashlight from overheating during use and improve the comfort of use;
★Constant current circuit, constant brightness, gear memory;
★Low-voltage warning, when the remaining power is too low, remind the user to replace it in time;
★Anti-reverse connection design prevents the battery from being installed reversely and causing harm to the circuit;
★Made of aviation aluminum material AL6061-T6;
★The surface is treated with military-standard three-level hard anodized anti-wear treatment;
★Size: 112.5mm (tube length) × 30mm (head diameter);
★Net weight: 60.8g (without battery)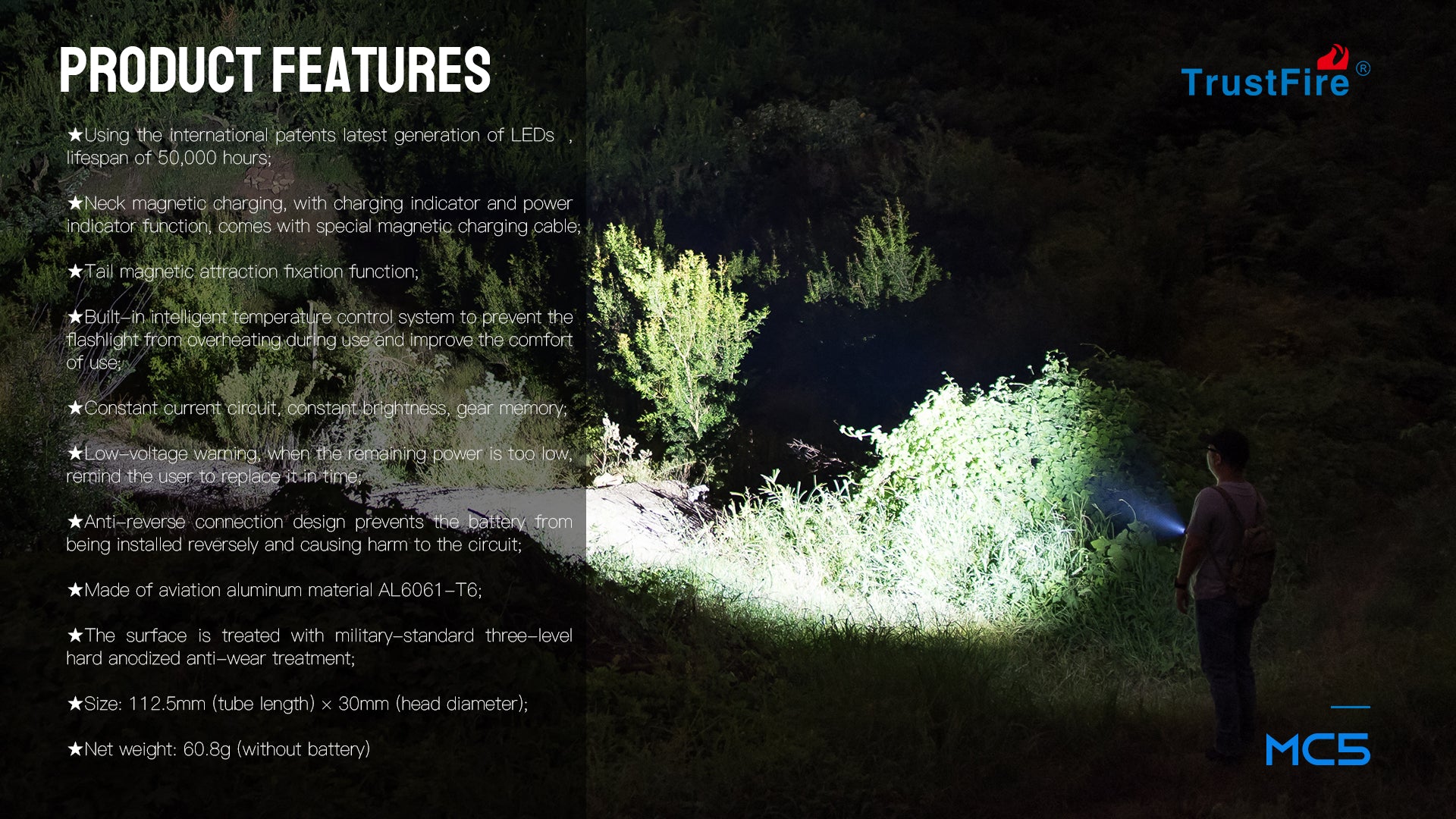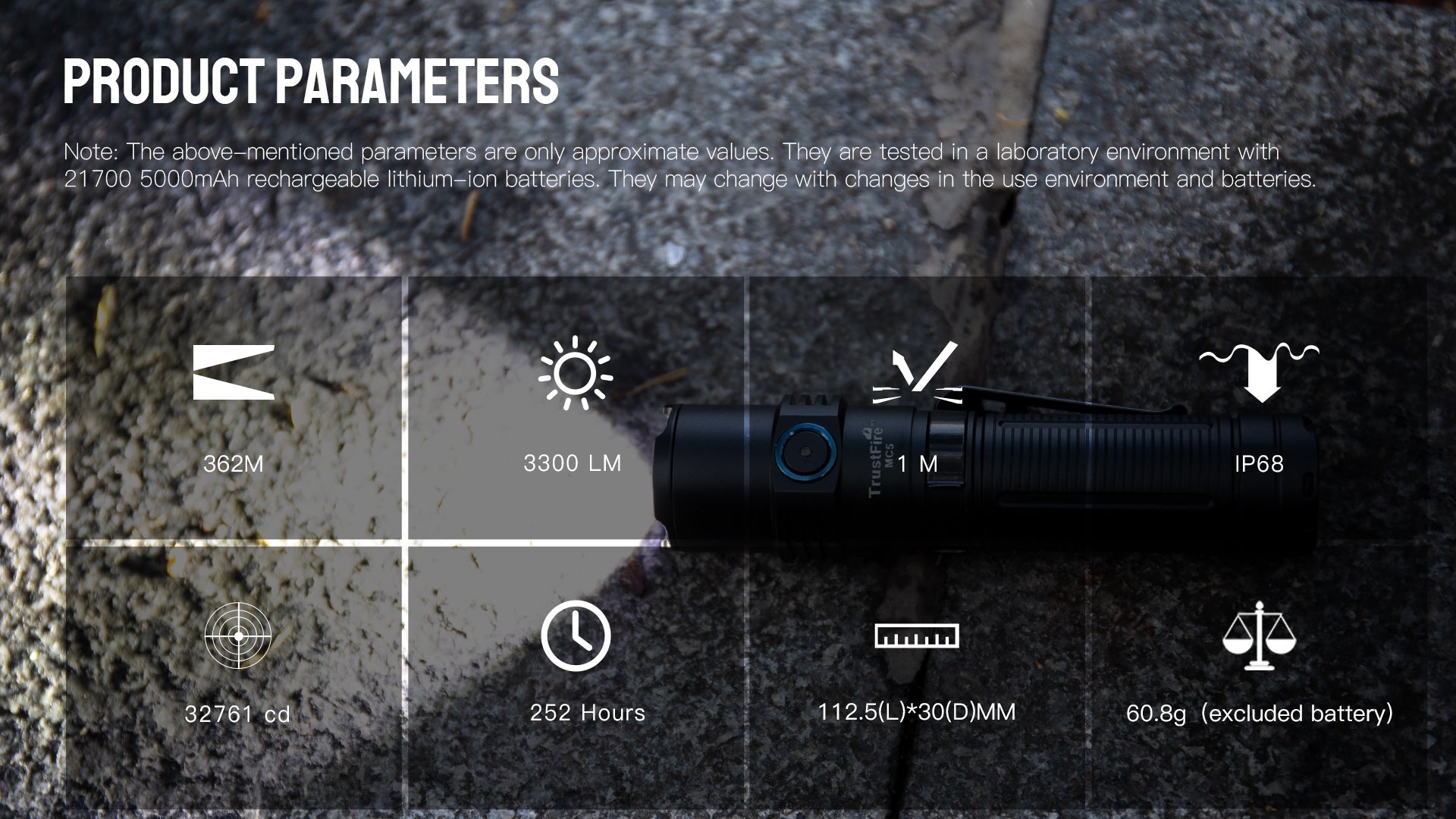 While there isn't a law requiring ecommerce stores to have a Return Policy, you may need one if you wish to enforce your terms and parameters of returns and refunds.
For example, in the state of New York, if a retailer does not provide a Return & Refund Policy, the retailer will be required to accept returns and give refunds for all merchandise returned within 30 days of purchase. If you wish to limit this in any way, you will need to create and post a Return Policy with your own custom terms.
Another reason for having a Return Policy even if not required by law is that most consumers prefer to shop at retailers with a clearly-posted Return Policy. This is especially important when shopping online, as more issues are likely when purchasing something without being able to see it in person first.
If you don't have a Return Policy, you may be at the mercy of state laws regulating return and refund timeframes. You may also lose potential customers who are concerned about not being able to return a product if they need or want to.
For after-sales service:
E-mail: kevin@trustfire.com
WhatsApp: +1 (321) 285-9451
100% Money Back
Guarantee